Batiste Dry Shampoo Review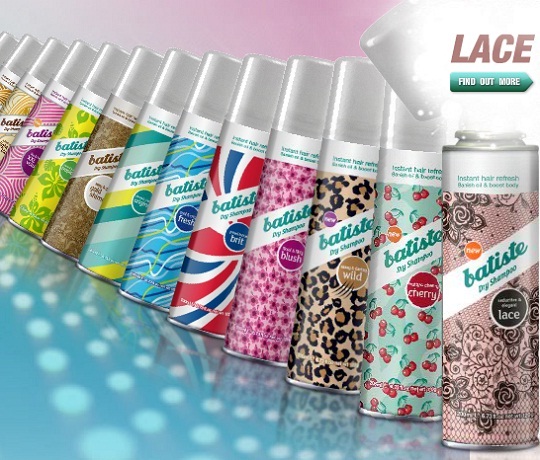 It's that back to school time! I never realised, and no-one ever told me, that when your child starts school - so do you. The morning rush to get ready and out the door, the dash to the school gates, the frantic working day as you manage to cram into 6 hours what you used to do in 8, and then legging it back to the school gates again at 3pm.
There are shortcuts. We all end up taking them at one time or another. The coat thrown over the PJs. The slippers that are boot-like enough to get away with, surely? The actual slippers worn when you think, well if I drop them right at the gate, and watch them go in, I won't actually have to get out of the car ...
Then there's dry shampoo. I never even knew this stuff existed before my son started school, and one day I over heard other mums talking about it. One of my best mates, however, informs me that dry shampoo was widely used at the boarding school she attended.
Dry shampoo is stuff that you spray into your hair, brush through, and hey presto. Dirty hair now looks clean. I got three samples of Batiste Dry Shampoo to try out, and, having never tried the stuff before, here's how I got on!
Spray and go
Batiste Dry Shampoo is at the budget end of the market (£2.97 for 200ml can at Asda). You can pay up to £7 for a can of dry shampoo from other brands. A bit excessive for my liking!
First read the instructions. And make sure you really read them, and don't just THINK you've read them (like I did).
The idea behind dry shampoo is that it is a sort of spray on powder that soaks up the oil and grease, giving your hair some new life and volume. You hold the can about 30cm from your hair, holding it up at the scalp, and spray. Then massage into scalp and brush vigorously through.
And voilà, you have clean, shiny hair ready to be styled.
That's the theory.
In reality, I got a bit confused by the instructions.
Well, do you do that spray thing just once? Or into the roots all over your hair? I opted for a sort of half way point, doing it in various places on both sides.
And ... I think I might have over done it. Lots of thick, choking spray that had me coughing and spluttering. And my hair looked like it has been sprayed with grey. I couldn't quite get rid of that. I brushed my hair probably about 100 times. My hairbrush was full of gunky white stuff. It was hideous.
My hair did look cleaner, and bouncier. However, the ends still looked a bit ragged (and not smooth as they would do after a fresh wash). And frankly, I had powder all over my clothes for ages afterwards. Thankfully I wasn't wearing black, otherwise it would have looked like the worst case of dandruff ever.
A week or so later, and I got up the courage to try it again. This time, I followed the instructions properly. And it really did the trick! My hair looked utterly amazing. Full of volume, clean and shiny. I felt like Cheryl Cole (or whatever her name is). My hair was a lot easier to style too. And when I ran my fingers through it, my hair felt soft and clean.
There is a payoff though. This isn't miracle stuff. At the end of the day, your hair isn't really clean. It just looks good enough to pass, so super handy in an emergency. But it played havoc with my scalp. Lots of itchiness and dryness, and I found I constantly had to brush my hair. After about an hour it all settled down, and I no longer looked like the snow queen though.
Hair sniffing good
After you've got your hair looking clean, you really do want it to smell good too. So the scents provided with the dry shampoos are vital. The first one I tried was the Batiste Dry Shampoo Wild. This was hideous. A choking, overpowering smell that reminded me of furniture polish. I shall probably never use this one again.
I had a much better experience with the Batiste Dry Shampoo Cherry. This is a lovely, fruity aroma that smells almost good enough to eat. Very summery.
But, my hands down favourite, was the Bastiste Dry Shampoo Lace. On the can it is described as seductive and elegant. I would say that it is a simple scent, a light fragrance that sits just right on your hair, won't clash with any other perfumes, and isn't cloying.
Pros: do make your hair look good and clean
Cons: your hair isn't really clean, and you will feel that
Overall verdict: 10/10 has to be really. You don't get something for nothing, so your hair will look fabulous but it won't stand up to really close scrutiny, nor will it feel all that clean to you. But. For busy mums it will save your back when you've an unexpected work meeting, or a morning from hell before doing the school run.