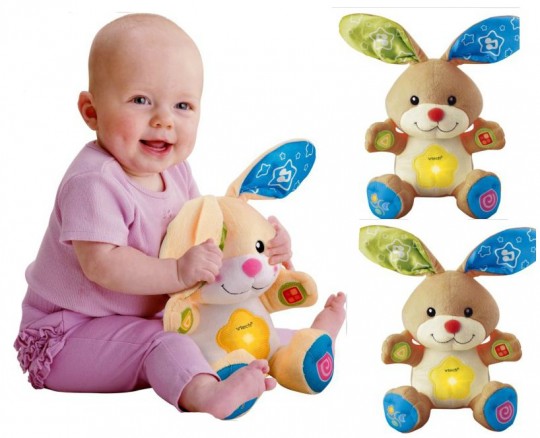 Argos' sale is seeing loads of really good deals cross our screens right now, and one of these is the VTech Day and Night Cuddle Bunny, which is selling for less than half price - £6.99 instead of £17.99
The Day and Night Cuddle Bunny is a night light and cuddle toy in one. It changes between day and night mode, so in the daytime baby can play with the fun buttons but at night time cuddle bunny becomes a soothing toy that glows softly and plays sweet melodies helping baby to relax and, apparently, sleep soundly.
There are buttons in the hands and feet that give fun responses when pressed in day mode but in night mode plays music. It has a light up tummy which acts as a nightlight and you can play peek-a-boo with the bunny by covering his eyes with his big floppy ears.
Additionally there are motion and sound sensors to activate appropriate phrases and sounds in each mode.
This toy requires 2 x AA batteries and is suitable for babies over 6 months old.