 The Transformers have enchanted kids for many generations, in fact there are plenty of Dads out there that secretly want one of these for themselves.
With such a great deal you can sneak one into his stocking too...
Retailing for as much as £34.99 at Toys R Us and Argos, this offer from Amazon is a steal, it also includes free delivery.
The Transformers Revenge of the Fallen Mega Power Bots come in two styles – Jet Power Optimus Prime or Construction Devastator.
Optimus Prime has eyes that light up and wings that pop out, taking your child straight into the battle with the Decepticons with imaginative ease. Motion-activated combat sounds and take-off and landing sounds along with battle noises and all sorts of fancy lights make this a total blast to play with.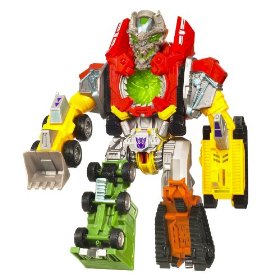 The Decepticon Devastator has a glowing, spinning Vortex Grinder along with blasting sounds, lights and electronic speech sounds that are wonderfully realistic and entertaining. He's definitely a foe to be reckoned with, especially with his light-up eyes, snapping claw and revving engine sounds when he converts into a convoy.
This is such an awesome toy for kids of any age. Yes Dad, that includes you.