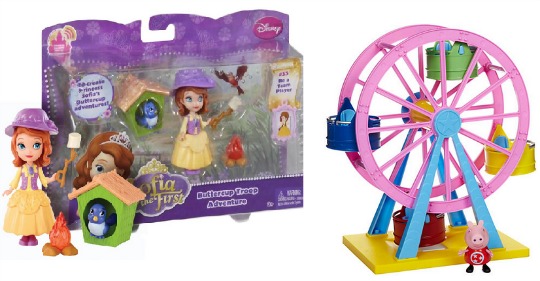 If you are passing Tesco today, get in there and have a right good rummage in the toy section. We have been informed of quite a few bargains in stores, nationwide. We aren't talking about a few quid off, oh no! These are proper bargains and what this means is that only a few have been flagged up so far but there's most likely LOTS more reductions to be found.
The Peppa Pig Ferris Wheel is being found in Tesco stores for only £7.50. This is normally £12, and I have never seen it under £10.
Peppa Pig Theme Park Set is £4.97. This one has an RRP of £40 and is still £20 on Tesco Direct.
The Sofia The First Butter cup Adventure play set is scanning at £3, and was originally £10.
Disney Ceiling Planes are going through at £3.75, what a bargain! These are £14.99 elsewhere.
The Power Rangers Megaforce DX Gosei Megazord is in Tescos up and down the country at only £7.50, reduced from £30.
100 Outdoor Play Balls £1.50, reduced from £6.
Lego Junior Digger 10666 £2.50, reduced from £10.
My Little Pony Rarity Equestria - Rainbow Rocks £5, these are normally £15-£20.
Mega Blocks Go Thomas Go £5, was £20.
Please let us know if you happen to find any other fabulous toy reductions in your local Tesco. If we all share our finds, think how cheap Christmas could work out this year. On a serious note, we will update you if we get informed on any other discounts. As always stock levels and perhaps prices may vary by store.