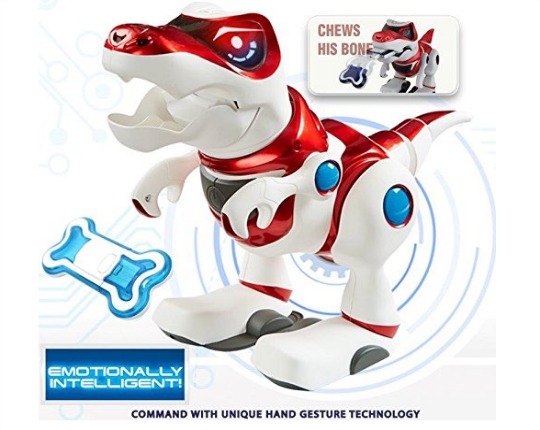 This toy is one of the most wanted this Christmas, and today the price has been dropped from a massive £59.99 to only £30 at both Amazon and Tesco Direct! It's still selling for £48 at Asda and £49.99 at Smyths Toys, so £30 with Free Delivery is an amazing bargain.
Tesco dropped their price first, and Amazon have price matched them but with the website problems that Tesco Direct are having today with the huge traffic caused by the Black Friday shopping events I would be inclined to try Amazon. I can't even give you a link for Tesco as I can't get on their website right now (or indeed at all today!)
If your kids have asked for this then chances are you already know all about it, but for those who aren't aware the Teksta T-Rex is a real robot who responds to your voice, actions and motions. You can control him with an app on your Apple iPad or Android device. He has an artificial intelligence program so he will roar, cry, whine and change his eye patterns in ways to show how he's feeling. T-Rex has state-of-the-art sensors to know if he's being petted, fed, talked to, and played with.
This sounds like an amazing toy, and at Half Price now is a good time to cross it off the Christmas list.