Super Goal With Trainer Review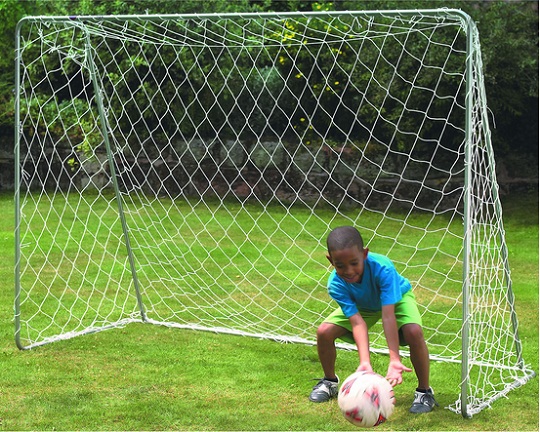 I've actually got a small trampoline from TP Toys in our back garden. To my mind, I always associate the retailer with trampolines and climbing frames. Which is exactly the problem that TP Toys are having. Because they're more than that - they do a whole range of outdoor toys. And if you're looking for a special gift this Christmas that all the kids can enjoy then something like a football goal, sandpit or basketball hoop may be just what you're after.
We received their Super Goal with Trainer to review. Read on to find out how one middle aged mummy and two 7 year old boys got on.
TP Toys' Super Goal with Trainer (£49.95) is made from galvanised steel. There's a lifetime guarantee against rust causing failure on the frame, incidentally.  At least that explains why I couldn't pick up the box and put it in the garden after the nice delivery man (who carried it in on one hand of course) put it in our hall way.
Obviously from the shape of the box (unless it was deflated I suppose) the goal doesn't come with a football. You have to supply that yourself. Otherwise there's everything you need in there to put it up, and practice your football skills, including ground stakes for extra stability and support. We didn't use these as the only place to put it in our garden is on the end of the patio. The other end of the garden backs on to a railway embankment, and that's already littered with more than enough of our lost balls and other toys, thank you very much!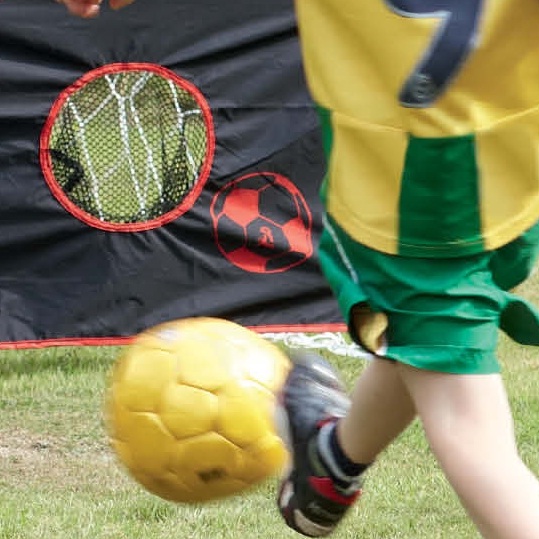 Still, with the very sturdy frame, and pushed up against the fence, it was pretty stable on its own.
It measures 213cm x 152cm x 91cm. That was plenty big enough for my son and his friend, both of whom are 7 years old, and a 9 year old neighbour from down the road. Even my husband thought it was a pretty reasonable size for a kickabout. He was also impressed at how well the frame stood up to a good kick from the grown ups too.
The Trainer Sheet attaches to the front of the goal. My son has siblings but they're so much older he is effectively an only child. He has lots of friends and that's great but something like this is really nice for him too. It has meant he's been able to go outside and have some fun even if he doesn't have someone with him. The Trainer Sheet presents a challenge, and also is a built-in goalie for when you don't have someone to play with.
My husband said it was easy to take on and off. To be fair, I haven't had a go at that myself yet. I have arthritis in my fingers and it is just so cold! He reckons I won't have any trouble though.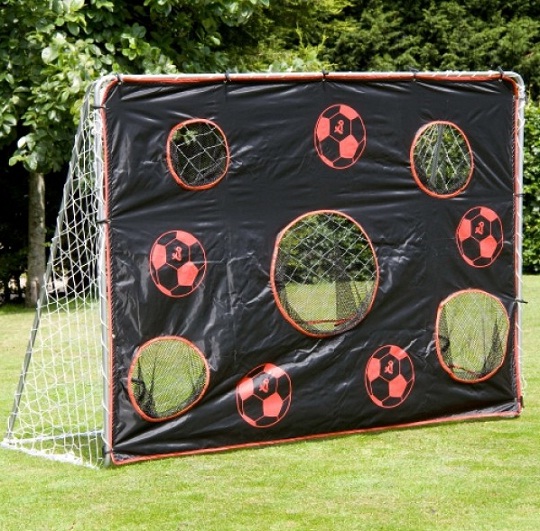 I wish I could say more but football bores the pants off me. I'm not even that interested in kicking a ball around. OK, OK you've wrung it out of me. I admit it. Even when son is at school I've been known to pop out and have a go myself. It is just that I need the practice and it is so embarrassing when we're playing as a family and I kick at the ball and watch it go sailing off to the side missing the goal entirely!
Pros: sturdy design, trainer sheet a nice touch, rot resistant nylon looking fresh even after a couple of weeks out in the worst rain we've had this winter
Cons: I couldn't put it up myself, I'm just not that strong. If you have any problems with strength you'll need to make sure you've someone around to help.
Overall verdict: 9/10