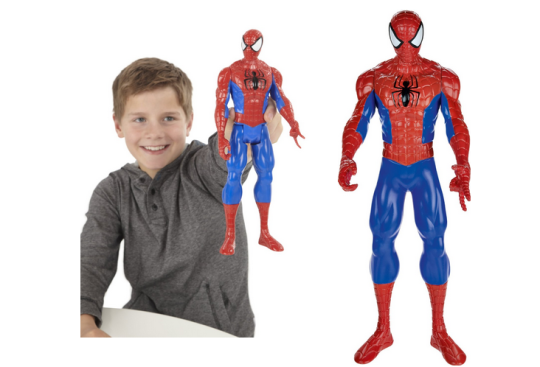 Amazon are selling a 12-inch Titan series Spiderman 'doll' for £7.49. If you aren't buying anything else, and don't have Prime, you'll have to add £3.30 for delivery. Alternatively, if you go to 'other seller' you'll find it there for £8.99 delivered. Still a great price, and reduced from £14.99.
The reviews on this Spiderman are great. Apparently his arms and legs don't actually bend, but they do rotate and go up and down. He is sturdy and robust and can handle being played with by small people.
One of the comments was about how he doesn't 'do' much, but that it's nice to have a toy that doesn't lose it's bits and pieces within minutes of opening - the number of dolls we have with one or no shoes, I can concur that that would be fabulous!
Pretty much all of the comments say it's a great buy though, especially for under £10. The image does make it look huge, but apparently it's about the size of your average Barbie doll.