My oldest daughter never had any attachments to a particular doll or toy as a child, and it never really bothered me that she didn't have a beloved dolly. Yes, she'd have her toy of the day, but there it stopped. It wasn't till her 19 month old sister fell in love with a little baby doll and wouldn't go anywhere without it that my oldest suddenly seemed to think she should have one too.  As it happened, this was  around the same time as an Sleepover Fairy landed on our doorstep, and with that any thought to put it away for Christmas for my youngest was laid to rest.
The Sleepover Fairies are a new collectable fairy rag doll range, presented in their own hand illustrated fairy bedroom gift packaging.
There are 8 small 20cm dolls and 3 large 36cm dolls, each with their own fairy name. Each doll comes with fully removable clothes, and a pink satin sleeping bag, and a fairy message card. The larger dolls come with nighties too.
We were sent a Florabella Fairy Doll, one of the 36cm dolls.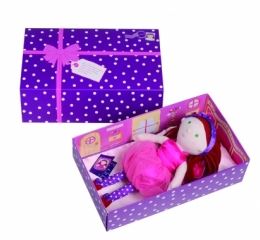 Florabella has red hair with sort of dreadlocks from rolled material, which I really prefered to plaited hair or anything that be can unwrapped, unrolled and otherwise destroyed. It's also much nicer than plastic hair. Florabella also wears a purple alice band - are they still called that? - which can't be removed. I was happy with that, as it's the only way to stop it from getting lost. 
She has purple tights with white dots, and these can't be removed, and neither can the shoes. The puffy princess pink dress was a great hit with  my daughter, and she loved taking it off. It has a hole in the back for the fairy wings to peak through.  The night dress is similar, although my four year old had a hard time getting it on her, so I had to to help her a few times. 
The Sleepover Fairies come packaged in a box that's decorated to look like a bedroom, the idea is that you can put your doll to sleep in their own bed in their own room. The silk sleeping bag is cute and comes with an attached pillow. My daughter likes getting Florabella to sleep with her in the bed though, so we never used the box. 
Aside from Florabella there are also other themed dolls, like a Toothfairy with a little pocket to collect teeth - you just remove the tooth and swap it for a coin before your little one wakes up. Some of the fairies also come with a wand.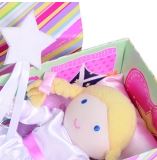 The Sleepover Fairies come in two sizes, and with it two prices. The small fairies are £16.99 and the large are £39.99. Now, while I think the dolls are dead cute and really well made I know there's no way on earth I'd pay £40 for them. Not with my kids. I guess I'm' a bit of a tight wad though, and if you have more expendable income than me, it wouldn't be a waste of money. The small fairies at £16.99 seem much more reasonable, even though half the price kind of equals have the size.
The Good
Sleepover Fairies are really well made, and will stand the test of time, I think. 

My girls absolutely love her, and my oldest takes her to bed with her. 

The fact that she comes with a change of clothes and a sleeping bag (the larger one) makes her more interactive and gives her more play scope, I think. 

I didn't even notice the card that came with it initially, but my daughter used it as a 'book' to read stories to Florabella. 
The Bad
I feel really bad bemoaning the price of the large doll because it's beautiful, lovely, fabulous,... all the things you want in a wonderful gift, or celebratory present - like losing a first tooth - but I know I wouldn't spend that much on a rag doll, lovely though it is. Don't let that put you off though.
The Verdict
Sleepover Fairies are really nice gifts, fabulous toys, hardy, and they put up with a lot of loving. The sleeping bag is a nice touch and the nightie is sweet too. It helps when children don't want to get dressed for bed, as saying that Florabella wants to get into bed helps things along. It's a very nice present, and would make any fairy - loving girl (or boy's) day.