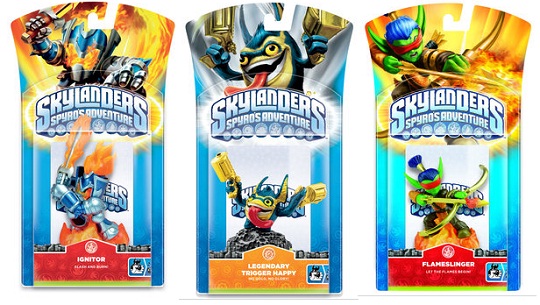 It depends on what Skylanders characters you might be after, but if it is one of the  that are left in stock at Toys R Us this could work out quite well. Toys R Us are offering 3 Skylanders toys for the price of 2 at the moment (you get the cheapest one deducted, naturally).
Now none of the ones I was after were already discounted, but some of the character packs are and on the same offer for Moshi Characters, it worked with sale items included too.
Skylanders are hugely popular right now (says she watching her son run around in his Skylanders t-shirt). The toys that are still available on the site are:
Legendary Trigger Happy Single Character Pack
Character Pack Wave 2 - Ignitor
Character Pack Wave 2 - Flameslinger
Character Pack Wave 2 - Whirlwind
Character Pack Wave 2 - Double Trouble
Handy for birthday presents, present drawer or Christmas. All of these were priced at £7.99, although the Trigger Happy pack was reduced by £1 to £7.99. I bought three of them and was told I also qualified for free standard UK delivery.
Thanks to dude24 at HUKD!