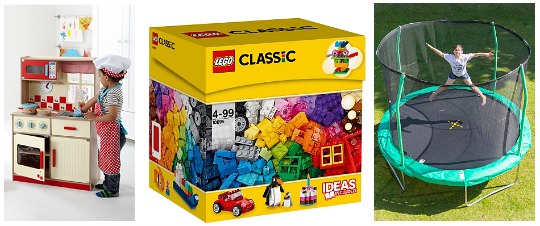 Asda George online have today started a mega toy offer with Save £10 When You Spend £50 On Toys - and it works on top of the existing price reductions on items like Lego!
Although this is great news for Lego fans, there are thousands of toys in this Save £10 promotion, so there's plenty to choose from! It includes loads of big outdoor toys, ride one, trampolines and pools, as well as big wooden kitchens, and all the traditional dolls, games and character toys.
Although £50 may seem a big amount to spend on toys, if it was something you were thinking about anyway like a swing, playhouse or trampoline then an extra £10 off is amazing. Even if you want to use it to stock up on birthday presents, party presents or such the fact that this is on top of all the existing price reductions makes if a great offer.
The Save £10 When You Spend £50 On Toys offer started today online at Asda George and it doesn't specify if the offer is in stores as well. The £10 saving is applied automatically when you go to the checkout, with no code to enter. You can click and collect for free, or home delivery charges are from £2.95.