Roary The Racing Car: Loada Race Day Truck Review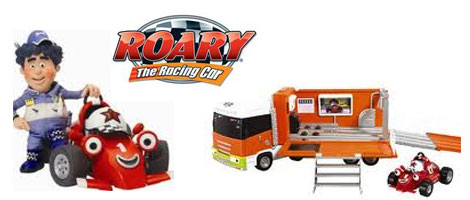 This Roary the Racing Car 'Loada Race Day Truck' would be just the sort of thing I loved playing with as a kid! I wasn't interested in Barbie or pushing dolls around in prams - it was CARS all the way for me.
It still is, but I've got proper real live ones to play with now so we sent Roary's Loada Race Day Truck off to PlayPennies mum, Heidi, for her two boys to play with and put through its paces.
There really was no better family to send it to. You see, their cats are named after various of the Roary characters and these boys would very quickly tell us what was what...the good, and the ugly!
"I made the fatal mistake of telling my sons, aged four and five, that Roary the Racing Car and the Loada Race Day Truck would be arriving in the post later in the week," admits Heidi.
"For days they pestered me about it until the postie knocked on the door with a huge brown package that emitted all sorts of weird Roary-esque noises!"
Heidi told us that her boys were so beside themselves with excitement she almost 'feared for her life' as they tore into the packaging, such is their love of all things Roary.
The first thing that struck her about the toy was all the different phrases the Roary 'Loada Race Day Truck' magically uttered from the TV show.
"It was literally making them from the box before we even opened it and that added to the boys' excitement. Needless to say it wears fairly thin on grown up ears after a while but it's something I was happy to tolerate because of the gleeful smiling faces of my lads."
You'd think with the boys happy as Larry, due to their new Roary toy, that all was well in Heidi's household, w-e-l-l yes and no...

"This is a contentious toy in that they love it SO much that it tends to cause wars. I've already confiscated it several times over. It's quite a tricky toy to share and at £24.99 it's not the sort of thing you're likely to buy two of." explains Heidi.
"It might go down more harmoniously in a house with only one child, or with kids less close in age and less likely to shed blood in the quest for sole mastery of the toy."
However, Heidi's 'always look on the bright side' soon reappeared, "The flip side of that, of course, is that it's a brilliant toy for practising sharing. I just need a full cafetiere of coffee on the go before I can cope with that!" I can relate SO much!
The truck comes with a little Roary vehicle and as Heidi's boys are self-respecting Roary fans they already had one of their own which helped make Roary playtime a bit less fraught.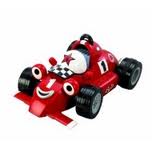 If you decide to buy a Roary 'Loada Race Day Truck' and you have more than one little Roary fan, then it might be worth taking note and investing in an extra toy Roary, to minimise the possibility of endless sibling wars!
Heidi thinks that this would make a wonderful Christmas present for a Roary fan, "I'd recommend taking it out of the packaging first because we had hysteria for a good ten mins while we fiddled with all the plastic wires and tried to work out how to get the truck to work."
She continues, "It's robust and holds my sons' attention for a good 20-30 minutes at a time. They really enjoy playing with it alongside all their other cars, and like making up elaborate games together. It has enough fiddly bits to keep them entertained.
And from a parental point of view, I like that bits and pieces don't fall off it and that I'm not constantly pestered to fix it or transform it."
And finally...

Returning to the issue of cost, Heidi had this to say, "It's not cheap and there are certainly cheaper vehicle-type toys available but personally I think this offers good value for money. I envisage it being part of our toy collection for a long time to come, and it's a bit hit with any kids that come to play."
Having lived with her boys and a Roary 'Loada Race Day Truck' for a little while now, Heidi is firmly of the opinion that should the big guy in the red suit need some ideas this Christmas, he'd do well to check out this toy!
If he wants to know where he can pick up a Roary 'Loada Race Day Truck' or two from, all he has to do is click HERE for the list of stockists; get me, being Santa's little helper!