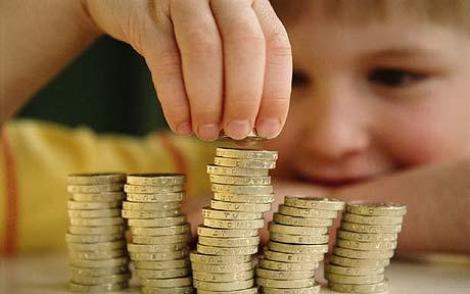 A month ago we started to review products that were all about teaching kids to save money and what money is all about and Bright Minds sent us some goodies that were just perfect. We've sent these out to some of our parenting panellists and here is what they had to say...

This game is all about teaching kids about money as they travel around the board earning and spending pocket money so they can be the first to fill their piggy bank! It's suitable for kids aged five to ten so we sent it off to our favourite parents of seven year old Isaac for reviewing and analysis.
"Isaac was very excited about opening the box when it first arrived as it's very bright and colourful," said Annabelle, "He loved the bright red piggy in the middle and proceeded to set up the game all by himself."
Clearly this product was off to a successful start!
"The game lasted around ten minutes, so it was very quick and is actually perfect for filling the time just before dinner," said Annabelle, "It has a very simple board and is good for testing your child's ability to understand money."
Annabelle is one of those mums that really knows how to manage and manipulate figures, so she was an ideal choice for this review. She could teach old George "Emergency Budget" Osborne a thing or two.

"Isaac enjoyed playing the first game but was very reticent about playing it again," she added, "At the age of seven, the board game was too simple as Isaac was looking for something more complex. However, if your child is just learning to count money, then this is a great little game with a bright and colourful board."
So, it looks like perhaps the age grouping on the game should be taken down a year or two, but otherwise it's a fun and educational game that does what it says it should. You're looking at paying £10.99 for the game at Bright Minds which is nice and cost effective too.

If you're already starting to teach your kids the value of saving money and buying things for themselves, then this little chap is a great place to store their hard earned coins. You get a complete kit to decorate and paint a piggy bank for the lovely price of £7.99.
We sent this piggy bank kit on to one of our mums with a tot that's just arrived at school, Lucy, to give a thorough testing.
"From the moment that Lucy laid eyes on the parcel she was so excited," said Mariam, "She nagged me for hours until eventually I had to scrap my chores and set it up for her to make. It wasn't hard to prepare for though, I just put a bin bag on the table and a pinny on Lucy."
The kit includes a ceramic pig, glitter glue, stickers, four pots of paint and a paintbrush.
"I was impressed with what we got for the money," said Mariam, "And I was ever so relieved to see they included the paintbrush. I had visions of my digging through piles of art stuff in the scary cupboard to find Lucy's old brushes."
Lucy soon set to work making the pig into her very own magical creation. The colours included are very girly, so perhaps consider something different if you have a tomboy or a lad that hates pink.

"Lucy thoroughly enjoyed making her pig and kept running over to see if it was dry," said Mariam, "The glitter glue took a long time to dry if it was left as tube trails but not when smeared around, but the raised trails looked great when it all set."
Mariam and Lucy both gave the piggy bank kit a thumbs up but with only one caveat.
"I did think that the piggy bank was a bit too small," Mariam added, "It won't hold very many coins and is a bit of a silly size. We mostly keep it on the fireplace in a place of honour because it looks so cute."
And Finally
Bright Minds are rapidly gaining a reputation for being the supplier of top notch educational toys and goods. You can find a lot of stuff here to supplement your child's education and these kits are no exception.
They both offer parents a great way of teaching their children about money while having fun and spending time together. They're also very well priced so make good Christmas and birthday presents.