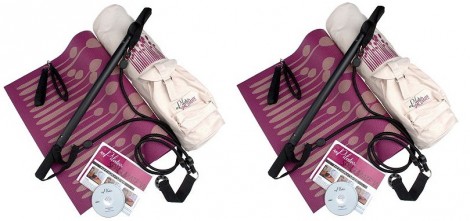 Who doesn't want to look great when the sun comes out? As the layers come off, we're more and more exposed. And suddenly some of those wobbles and bumps become a bit more than just annoying.
So when QVC sent us what is descrbied as a 'Gym in a Bag' I took notice. Specifically it is the Pilates Spacemate Portable Pilates Gym in a Bag with resistance cords, mat & DVD. QVC sell this for £39.84, marked down from £44. Postage costs an additional £5.95.
After gazing longingly at it, and imagining a toned bikini body (well we can all fantasise!) I gave it to PlayPennies mum Becky, a mother to three lively youngsters.
First Impressions
Becky's first thoughts when it arrived was that it was a lovely bag with a really pretty mat. She thought the equipment felt solid and very well made, which is just as well as you soon realise you're going to rely on it to take quite a lot of force.  "My only slight gripe", she says, "was that I prefer a thicker mat. This one was thick enough for carpet but not really for hard flooring."
The purpose of the bag is to allow you to practice Pilates in the comfort of your home. Based on the original Cadillac Tower, the gym has a door attachment, a mat, a roll down bar, resistance cords and hand and foot straps to get you started.
Setting Up
In simplest terms, this is a pair of bungee cords held in place by a door attachment, with two hand/foot straps and a detachable bar. You need a very firmly closing door (preferably one that locks) with a space in front of it big enough to lie on a rolled out mat and stretch your arms and legs out to the side.
"As I discovered," explains Becky, "it's best not to attach this to a glass patio door and let your five year old son play with it as there is a huge amount of force when he pings the bar attachment at the glass door (luckily no harm was done)."
If you don't have a locking internal door, it's also best not to have small children around who may open the door while you're using it. You'll also need to be able to watch the DVD while you're using the gym. In fact, ideally you should be able to lie flat with "your neck extended" while you're watching the DVD.
"And preferably," Becky observes, "not have passers-by able to see through the window as some of the feet-in-stirrup exercises are quite interesting."  Quite specific requirements then...
The Exercises
I think that Becky might have enjoyed this bit. "Wow, it really is fantastic. I'd been wanting to try pilates for years but, as a regular attendee of yoga classes, had never quite got round to it."
She did find that many of the exercises are similar. The DVD takes you through a whole class worth of exercises, allowing you to complete all the repetitions before moving on so you don't need to stop and pause. "What is so different is the force the bungees extend on your body as you work. I'm quite a convert. Some of the exercises have you standing leaning into the bar which, without a securely locking door, feels like living life slightly on the edge. Will the toddler open the door and send me flying or not?"
And Finally ...
Do you need to have done pilates before? Not necessarily, but there are a few phrases you would need to know like 'spine neutral', 'neck extended', 'pelvic tilt'. Becky found that while there are instructions on how to lie, it's not emphasised how not to hurt your lower back.
Overall though her final verdict shows she's a convert. "I thought I'd only really be interested in using this for the bag to transport my yoga mat to classes but I'm pretty sure I'll carry on using this..."