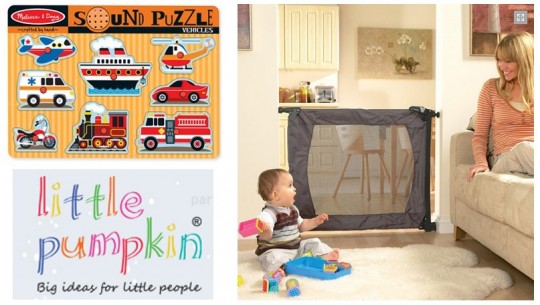 Little Pumpkin is a gorgeous onine shop for all your baby essentials, must haves, non-essentials, want to haves and absolutely everything in between. They sell baby items for feeding, cleaning, sleeping, learning, safety, play and for getting out and about, and a clearance section too.
Now, I know what you're thinking: baby boutique equals expensive, right? Well, not necessarily. In fact, they sent us two products to review and the prices came as quite a surprise.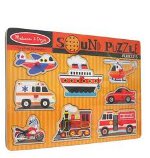 For a start, we received a Melissa and Doug Vehicles Sound Puzzle, which sells at Little Pumpkin for £9.99. My hubby and I thought this was about £3 or £4 more than we'd 'happily'  pay for it, but figured that's about right for this type of shop. I popped over to Amazon to see what it was selling for there and was shocked to find it cost £12.76 – a price we definitely wouldn't pay for it.
As much as my daughter likes the Vehicles Sound Puzzle, there were a few things about it that irritated me.  It comes very nicely sealed in a plastic wrap that is impossible to tear open with your nails or teeth and actually needs scissors. Fair enough, I guess, as you want it to arrive in good condition, what with transportation and all.
You open it up and pop out the first piece expecting to hear a sound, but alas – it doesn't come with batteries. Admittedly we've never had a sound puzzle before, but toys and books that make sounds generally come with at least demo batteries. These don't.  My daughter played with it for a while anyway, and really seemed to enjoy it. When you remove the puzzle piece, there's still a picture underneath, so it's easy to match up the pieces by looking at the picture rather than by trying to match up the shape – there are merits to both forms of play, I guess.
On the back of the puzzle board there's a sticker next to the battery slot that tells you you need 2 LR6 batteries. I have no idea what that is, so Googled it: 2xAA batteries. We trundle –I'm seven months pregnant after all - off to the shops to buy another set of rechargeable batteries (it says that rechargeables aren't recommended, but that's all we use and all our rechargeables are currently spoken for), charge them up, open the slot to pop them in…. and find they're the wrong size. The do not, in fact, take LR6 or AA batteries, but LR03, or AAA.  Back to the shops for us then.
So, this really annoyed me and I was pretty content to keep it as a soundless puzzle.  In the end we did get the right batteries, however, and my little girl loves it. There are a few quirks – for example the sound seems to be light triggered, meaning it makes a relatively realistic sound when the piece is popped in. So, if you don't have all the pieces in place and switch a light off in your child's room, for example, it'll make the sound.  Sometimes it doesn't complete the sound either – but then I can't say emphatically that that doesn't have more to do with being operated by a two year old.
It's a nice toy, she likes it and has added it to her other puzzle toys, but I can't say that I'd go out of my way to buy the rest of the set (Pets, Zoo Animals and Farm Animals) when there are so many other puzzle boards available at much less.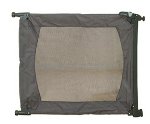 We also received a more practical product, the Lindam Flexigaurd stair gate (£27.99). This is great. We live in a rented property, so not only can we not drill holes to put up a permanent safety gate, but we also can't change the banister to make it fit better. The Lindam Flexigaurd safety gate kind of has the bit that makes it so great in the title: it's flexible.
Basically, you can adjust the size of the gate to fit openings from 71cm to 92cm. You then push the handle down and it locks in four pressure points and locks pretty firmly. If you don't have it the right size it'll simply push over, so you have to be sure that it's accurately placed.
Getting it to the right size is initially a bit of a pain and can require quite some 'fine-tuning', but once it's set up you're sorted. To open and close it, you lift and lower the handle which 'collapses' it, but doesn't change the size.
The Lindam Flexigaurd stair gate has a lightweight frame making it really easy to transport and carry, and the twist and fold collapsing mechanism makes it really simple.
I don't really know what else to say about it – it's pretty brilliant, it works and it's a fantastic solution for a rented property, a temporary stay or if you don't want to drill holes.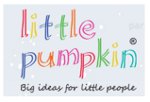 Little Pumpkin offer free delivery on purchases over £50 to UK mainland addresses. They have a no fuss returns policy and also a pretty good price match: If you find the same product elsewhere (not including auction-sites, stock clearance sites or Amazon) for less, in stock, and available for delivery within 48 hours, they'll match the price.