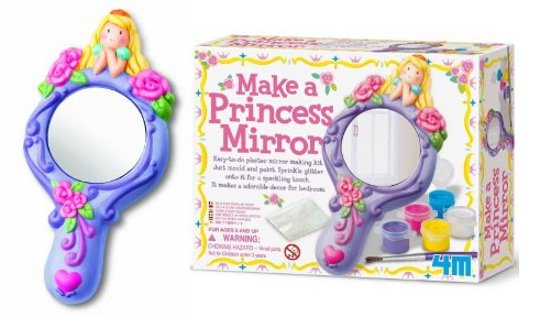 Easter holidays are perfect for arts and crafts, especially when the weather's so crummy after a perfect few weeks! Amazon have a few arty crafty goods on sale at the moment, and one of those is a Make A Princess Mirror from Great Gizmos, selling at £3.49, reduced by 42% from £5.99, and including delivery.
The reviews for this item are actually more informative than the description itself, but apparently this is more of a dolls item than a child's and produces quite a small mirror – around 13cm.  Even so, it's a nice, creative thing to do. The set comes with a rubber mould and with plaster which you use to create the mirror.
After a good 24 hours of drying time, the reviewers recommend, you can start decorating it with the paints provided. That said, it's not the best quality of paint, and will stain, and will not wash out of clothes, sofas and carpets.  You're better off getting your own child-friendly paint to use.
The set also comes with sparkles and glitter, and while they say it'll be 'hours of fun', I'm not sure there'll be that many hours, but it should still be fun.
Thanks to dudebar