Plum Surfside Sand And Water Table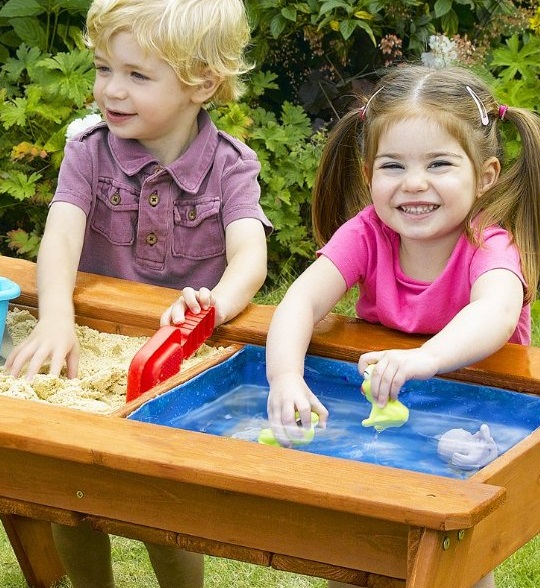 Sand and water. Two things that every small child loves playing with. The Plum Surfside Sand and Water table mixes both of these elements, plus a lid so that the table can be used as a picnic table as well.
I liked the look of this table as soon as I saw the photo. It is made of wood, so will look really nice in the garden. And since we've finally got some hot weather, we're out there a lot at the moment. But it is child-sized, so could go inside too if you have the space. It would make a good play table in a playroom, for example.
But, I had my reservations. Was it practical? How sturdy was it? And most importantly, was it really the good size it looked in the photos? Yes, I've been burned before with equipment where they've clearly used the right aged child - just a very small right-aged child.
There was only one way to find out, and that was to get it in for review. Read on to find out how we got on.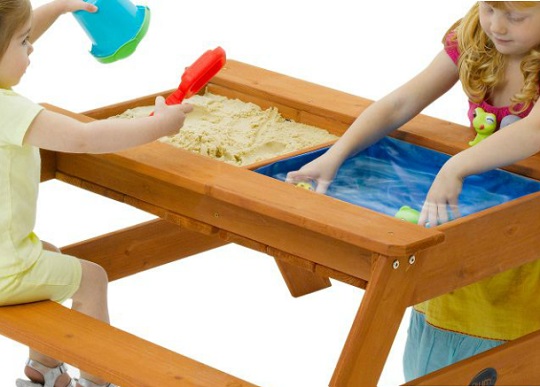 The Plum Surfside Sand and Water Table is priced at £89.99. I don't consider this to be a cheap item, so I had high expectations in terms of quality and build.
The idea behind the table is that you can use it for eating, or for drawing, playing games etc, on the flat top. Then remove that top and there you have a sandpit and a water play feature.
It is recommended from 18 months upwards. Although I think that as a table you'll find a use for it earlier than that. We did find it fit four small children (aged under 5) quite comfortably. The dimensions are 1.05 long  x 0.89 wide x 0.49m high.
The site says this is a good size for a compact garden or small patio. I think it would also work really well on a large balcony too.
The table arrives flat packed. According to instructions, it will take one adult one hour to construct. It did indeed only take one adult, but it took a little longer than an hour to put together. This is probably because my other half is very methodical. Also, he planed down a little bit of it to get a really good fit. I don't know if that's down to the build of the table, or because he's overly fussy. He does this with all flat packed furniture.
Overall, his verdict was that it was an easy build, and once together this is a really robust, solid piece of garden furniture.
It also smells nice. You don't get that with plastic furniture. I love the new wood smell of this table though.
The top lifts on and off quite easily. As a table it works well, and is a really lovely place for children in the garden to do activities like drawing, as it is just the right size for them.
The only downside I could see is that the compartments for the sand and water aren't removable. You get a plastic sheet of some sort in the water compartment, and I am not confident about how durable that will be. I will have to come back with an update. It just makes it difficult to empty the water without spilling the sand. Also cleaning it out wasn't as easy as it would be just rinsing a bowl.
And it does need a wipe out regularly. There's nothing like the messy lure of mixing sand and water together to make small children really happy.
For the price, I really would expect to be able to remove the water bowl at least. But other than that, I can't find any faults with this table. It seems durable, is really robust and solid, is a nice colour.
Pros: good size for children, easy to assemble and use, robust
Cons: no removable tray for the water
Overall verdict: 8 / 10