Plum 6ft Trampoline And Enclosure Review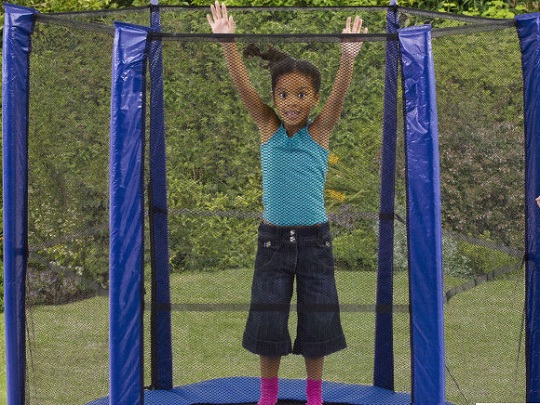 When my son was a pre schooler, we got a My First Trampoline. It was fabulous, and I do think it was really worth getting. But if you have a small garden, I'd give the Plum 6ft Trampoline and Enclosure* (£159.99)  a consideration now. One of my best friend's bought this for her children for Christmas, and even though the weather has been awful they've been out in it nearly every day.
It is supplied flat, and while assembly isn't that easy, it took just about an hour for her and her husband to put it together.
The 6ft trampoline frame is made from steel galvanised inside and out for rust free protection and increased strength. The trampoline enclosure is designed to keep the user within a safe area whilst using the trampoline, thus reducing the risk of falling.
The children tend to bounce against the netting, using it for leverage, and it is holding up well so far. Unlike my trampoline, this one has waterproof wrapping down the poles. My trampoline had foam covering for this, and while that's OK, the cat ripped it to pieces in a very short while. I think this is a much better option.
However, I think the padding on my trampoline is better, around the outside. The padding here is adequate, but I'd have preferred it to be more substantial myself.
I think this is a great option for a small garden, but I would question the price tag and would definitely wait if you can until it is reduced or a discount code comes along.