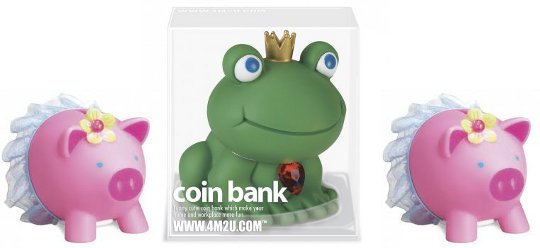 Treasure Box have reduced the prices of these rather cute piggy banks by at least 70% - the Ballerina Pig piggy bank is £2.09 and the Frog Prince piggy bank is £2.39, both of them were originally £7.95.
Jigsaw puzzles and piggy banks are two of my favourite things to give little kids - you can never be too young to start learning the value of money and that you should be trying to save as much of it as you can, rather than spending it just because you have it.
The Ballerina Pig piggy bank measures 7cms tall, has a pretty yellow flower in her 'hair' (yes I know pigs don't have hair, but look at her picture and you'll see what I mean) and is wearing a frilly tutu.
The Frog Prince piggy bank is my favourite of the two (I'm sure you've guessed by now that I don't do 'frilly' very often) - he also measures around 7cm in height and is wearing a little crown along with a red heart jewel around his neck.
There's no delivery to pay with orders from Treasure Box, so either £2.09 or £2.39 are the total prices you'll be paying for your Ballerina Pig or Frog Prince piggy banks.
Thanks to wishihadadonkey at HUKD