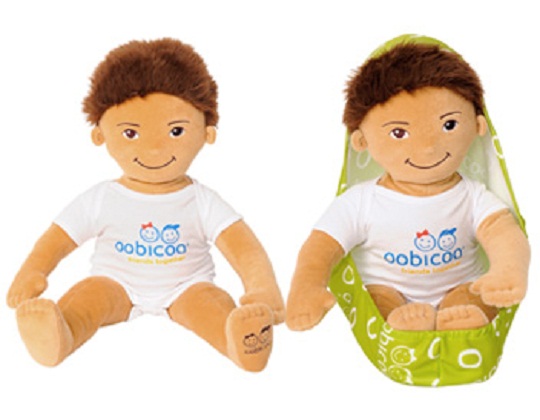 The Oobicoo toys are top of my Christmas Gift guide this year because they support a good cause, are made from planet-friendly materials, and offer some great learning values - they also have a fab name. Oobicoo comes in girl or boy flavours and are the same size as the average six month old baby. In fact, they have been designed to wear out-grown baby clothes and have some great extras. Read on to find out more about these environmentally friendly, cuddly and cool toys...
When my daughter first saw the Oobicoo boy that she received, she wasn't entirely enamoured of it. However, after a few hours it was taken with us to Tesco, it was dressed in her old baby clothes and it was renamed Harvey.
The doll comes wrapped in this green pod made from fabric and there is no excess packaging of any kind. This fabric pod can be used to snuggle your Oobicoo up in at night, or to carry them around safely. The Oobicoo itself is stuffed with recycled fibres, the skin is supremely soft and the entire toy very snuggable.
You can buy your Oobicoo for £46.80 and each sale raises money for the Children's Immunology Fund, the charity which supports the Children's Bone Marrow Transplant Unit. So not only is it something for your little ones to treasure this Christmas, but it is doing good at the same time.
The Oobicoo is quite pricey if you compare it to some of the other toys that can walk, talk, sing and dance for that price, but it is a classic toy that will offer your child many hours of play. It also encourages the recycling of old baby clothes, all of which should fit the doll, and becomes something of a cuddly companion. My daughter was found playing Bratz with her Oobicoo as if the latter were a friend around for a playdate.
This morning I tried to take the Oobicoo away from my daughter as I didn't feel like another shopping run with Harvey in the way. The outrage was astonishing and yes, Harvey came along again. If you're looking for an unusual, meaningful and entertaining gift this Christmas, then Oobicoo may be the one for you.