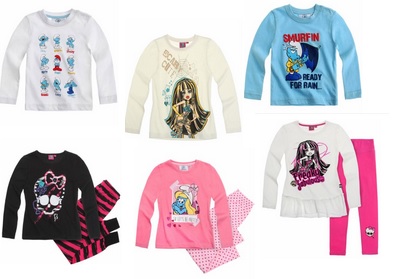 Lamaloli has a sale on at the moment, and with it they have a 3 for 2 offer, which also applies to the sale items. I've just been browsing through the sales section, where there's loads of Monster High and Smurfs and a few others too. Most of the Monster High clothes are for older kids - 12 and up, and Smurfs, Ninja Turtles and so on are available for younger children and babies.
It's great that you can combine the two offers - I picked up two long sleeved tops and a top & leggings set for £19.85 delivered. The shipping cost of £5.95 is quite extreme, but before the discounts it would have been £41, so it's a good offer.
You can add the items to the basket, and the cheapest will reduce to free in the shopping basket. Take advantage of the double discounts and stock up on fun spring wear.