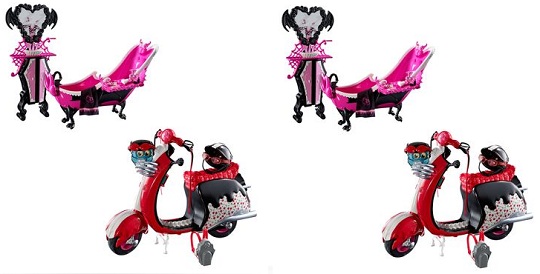 Build up your child's Monster High collection with these assorted packs from Hamleys which are now £15.00. That's a saving of £5.00 when you buy the Monster High Accessory Assortment as the packs were £20.00. Nice present for all those Monster High fans.
As a slow-moving zombie, Ghoulia Yelps will get a kick out of her zippy scooter, while Draculaura can pamper and primp in her powder room. The scooter features great spine detail, a rib-cage basket for Sir Hoots a Lot and a femur-bone kickstand so she can park it at school. The turning wheels, handle ribbons and helmets for Ghoulia Yelps doll and her pet assure a fun and safe ride, zombies have to watch their heads you know.
Draculaura can primp for hours with her new vanity complete with a vampire mirror, toiletries (Draculaura uses fang-paste) and monogrammed towel. The black and pink claw-foot tub is to die for (hehe) and the perfect spot for Draculaura doll to relax and boo-tify.
Scary stuff!