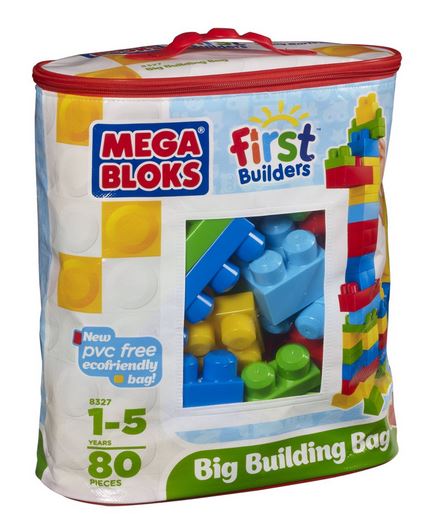 Amazon have a big bag of Mega Blok fun for £11.39 for 80 blocks. This is cheaper than the current price at Asda, which is £14.97. It also includes delivery, since it's over £10.
Children do seem to love their building blocks, and if there's one thing I learned, compliments of Mega Bloks, its that if your child's not into it, they probably just haven't got there yet! My daughter was given a set of Mega Bloks for her second birthday, but she didn't show much interest in it at all, so we gave it away. Not six months later, she 'discovered' them at a friend's house and we had to buy a new set! It's well worth putting them away till they do become interested.
Mega Bloks Classic Big Building Bag offers children limitless options for what to build. The blocks come in bright primary colours and encourage hands-on exploration and open-ended play.
Little ones can construct tall towers and fortresses, castles and more.
These blocks are large, and (I'm sure) impossible to get in small mouths, but they are perfectly sized for little hands.
They come in a reusable bag, which makes for easy storage.