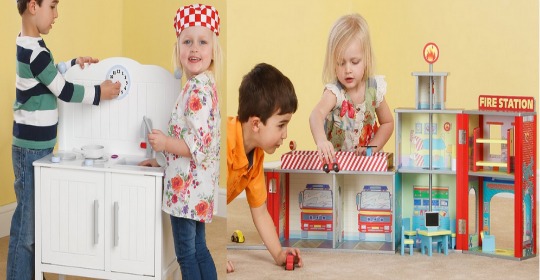 Have you got the kids their big toy yet? If not then take a look at these two offers on gorgeous Plum Wooden role play toys at Amazon.
Role Play Kitchens are a hugely popular gift this year, and if you missed out on the recent deals we've been telling you about then this latest reduction is a bit of a biggie. The Plum Oxford Wooden Role Play Kitchen & Accessories was £84.99, but today it has been reduced to just £31.87 with FREE Delivery at Amazon. That's 63% Off!
It's a white wooden kitchen (gender neutral rather than pink - about time!), with a traditional farmhouse design. It comes with matching wooden accessories including a frying pan, a pot with a lid, and a spoon and spatula.
If Kitchens aren't your thing then the other MASSIVE reduction today is the Plum Ingham Fire Station Wooden Play Set & Accessories. This was priced at £119.99 (ouch) and is now 69% Off at £37.50 with FREE Delivery!
It's a three storey fire station building, with a fire pole, computer room, control centre, living quarters, garage and helipad. The walls fold in for easy storage and the 19 wooden accessories (cars, firefighters, signs, furniture) can all be stored away inside too.
I think these toys both look wonderful gifts, and they are good for encouraging imaginative and social play, as well as being timeless classic designs. The kitchen does come flat packed so leave enough time for someone to build it on Christmas eve!