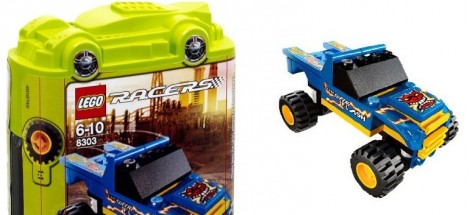 If Lego is as big in your house as it is in ours then you'll already have a finely tuned Lego bargain 'antenna'. The stuff is so over priced! This Lego Tiny Turbos 8303 Demon Destroyer is available for more than half price at Amazon, reduced from £4.99 to £2.23.
It is a week of it for Lego bargains in our house. A couple of storage tubs for next to nothing last weekend at the boot sale, and the Sun giveaway (click here). My other half has gone a bit nuts, picking up several of the same item, so we've got 'spares'. I suspect the real reason is so that he gets one too.
The Sun offer has been extended to Sunday. Which not all parents are pleased about. It has been a bit stressful as the shops have quickly run out of stocks. One dad I know was picking them up from a WH Smiths next to his office in the centre of London. It opened at 10am yesterday and by the time he got there at 10:15am all 200 had gone!
Anyway, back to the Tiny Turbo. These are a bit like the series of Lego Heroes, which are also popular with the boys at my son's school. It comes in a tub and can be combined with other Tiny Turbo models to create another vehicle.
According to the website "its huge tires and massive ground clearance make light work of tricky racing surfaces and any opponent". Combine it with the #8302 Rod Rider to create a super truck. It measures 3' (7cm) long at a 1:55 scale. The  model also has roll bars and grill.
Thanks to shadow1 at HUKD!