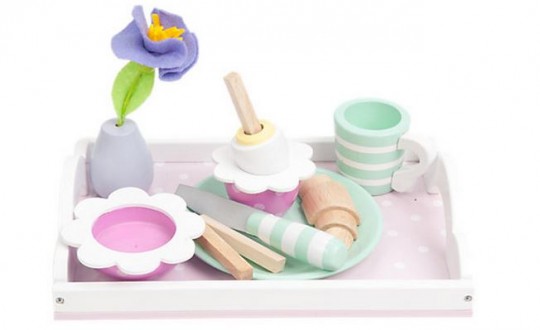 The Breakfast Set from Le Toy Van at John Lewis is reduced from £20 to £14.  There's a £3 delivery charge, or you can click and collect from any John Lewis and Waitrose shops.
The Le Toy Van toys are gorgeous, and they really are good quality toys. They are more expensive than your standard plastic play food, but they last, and last, and last. We love all our wooden food, but I do wish they were a little cheaper to come by, even at this reduced price, especially as the pictures provide no scale, and in my experience with Le Toy Van they are always smaller than you think.
I think this is an old style breakfast set and the new one is in red and has a grapefruit for breakfast, but this older set is a lovely colour, and includes a plate, bowl, mug and cutlery as well as play food and a handy tray to carry it all on.
There's even a cute fabric flower in a vase to add the finishing touches to breakfast in bed.