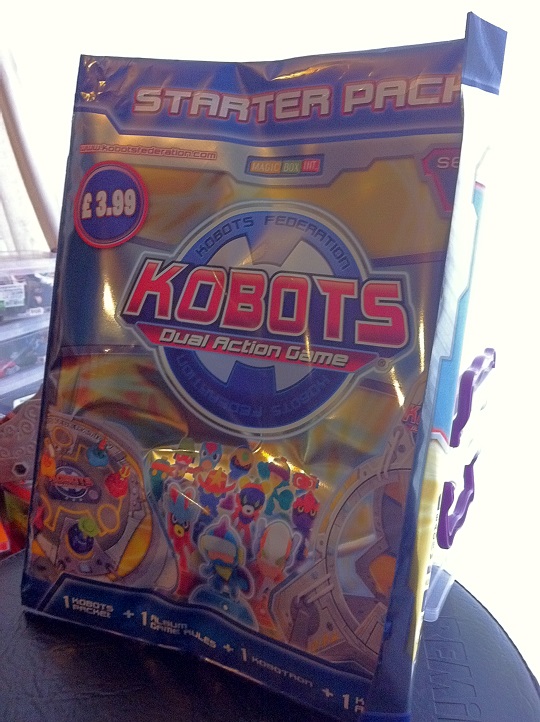 I'm going to do this review in two parts. One for children, and one for the grown ups. You'll see why.
We received a Kobots Dual Action Game Starter Pack to review. This came in a large foil pack, with lots of exciting illustrations on the outside. Just the sort of thing to really appeal to an eight year old like my son.
Kobots has a rather complicated back story. From what I can gather, aliens who are never to appear in the Kobot universe again, come in and wreck all sorts of destruction. Then leave. In order to survive all the worlds left in the Kobots universe have to try to figure out how to work together.
What happens is that they discover a new game, and this helps to unite them all. And that game is Kobots. Read on to find out more, especially if you think these are going to end up in your life anyway.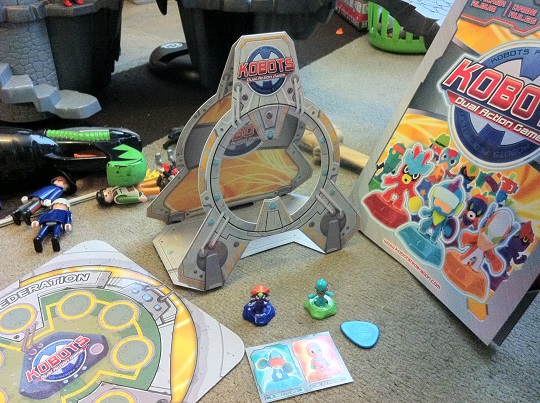 The Kobots Dual Action Game Starter Pack costs £3.99 and you can find it in shops like Tesco*. You can't see inside the foil bag. It contains a Kobots Album, a Kobots packet (with two Kobots), a Kobotron and a K.O.BOT Arena.
In reality these are a sort of magazine, with lots of information about the game, the story behind the game, and info boxes on all the Kobots. You get a sticker for your Kobot, and you then put that sticker in the Album next to that Kobot's stats.
Every single Kobot is in the album. Oh yes, here's a side note for the grown ups, this is going to give you and idea of how many little foil packets you are going to be bugged for when you go to the supermarket.
The Kobotron and K.O.BOTS Arena are made of cardboard. With the Arena you put the Kobots on the spots provided, then take it in turns to knock them off. Kobot's are fired rather like tiddly winks. You have something that likes like the pick from a guitar to help you fire them off.
With the Kobotron, you try to get the Kobots through either the hole at the bottom or the one at the top. The hole at the top is much larger but it is much harder to get the Kobot into the air.
According to my son, this is an awesome game. He spent ages flicking the Kobots at the Kobotron. We couldn't make the most of the Arena as you only get two Kobots with the game.
The Album is pretty good value, with lots of information on the Kobots, and a nicely illustrated drawing of the Kob Universe. There's also lots of tips in there on playing the game, and developing your Kratar technique (that's the little thing that looks like a guitar pick).
Overall, the game is much sturdier and the pieces are more well constructed, than the stuff you get on the front of magazines as gifts. However. They're more bits of cardboard and tiny little figures because if you've got a child under the age of 10 you don't already have enough of those (note the sarcasm). I can see it being hard to keep this together and not getting trashed in the bottom of a toy box somewhere.
Then there's this need to collect, and there's a lot of Kobots. With the Lego minifigures, Moshi Monsters, Bin Weevils, and Trash something or rather, eventually there will be an aisle just for little foil packets of toys.
Now, for yet another morning, I have to go spend some time playing Kobots before we go to school. My son has invented quite a few new games to play with it. At least I can say that, hand on heart, so far we've got more than our money's worth!
Pros: fun to play, not too expensive, teaches good aiming and hand/eye co-ordination
Cons: you're going to have to buy more Kobots
Overall verdict: children - 10/10, adults 5/10