Hello Kitty Playhut £9.99 @ Toys R Us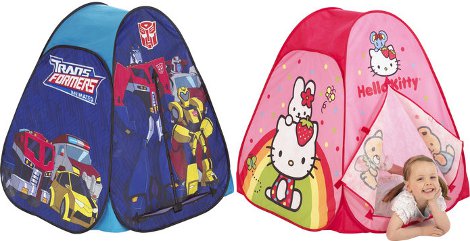 This cute Hello Kitty Playhut is half price at £9.99 at Toys R Us
My god-daughter is absolutely Hello Kitty obsessed. We just celebrated her fifth birthday with a Hello Kitty cake and Hello Kitty décor and a Hello Kitty bouncy castle. She has Hello Kitty bubble bath and Hello Kitty bedding. Really. When I said obsessed, I wasn't kidding.
I really think I should buy her this Hello Kitty Playhut, just to complete the collection.
It is suitable for indoor and outdoor use and is 76 (l) x 76 (w) x 91 (h) cm in dimensions. It's predominent colour is, of course, pink and it's made of fabric. The hut has an opening entrance with velcro tabs to keep the hut open or closed.
There's also a boys version, the Transformers tent that's the same in every other way. There's a five-star review on this one who says that it is easy to put up and take down, and that it gets played with every day – and that he can't say a single bad thing about it... which is pretty good!
Delivery is a hefty £4.95, but there's no escaping it, unless you go in store.