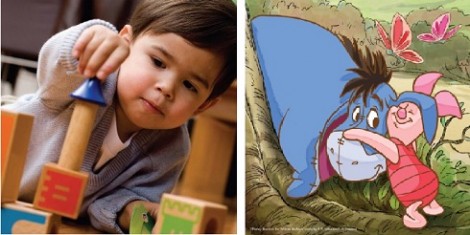 Although I'm not familiar with the brand name, it turns out that Jumbo Games have been around a long time. The company started in the Netherlands in 1853. They produce good quality, well made games. The emphasis is on game playing, rather than trying to be educational. So they probably manage to achieve both!
I'm rubbish at simply playing with my son. No matter how hard I try, I simply cannot get my mind into the same imaginary space that he does. Games are a good compromise. We can both play together.
PlayPennies received two games to review from Jumbo Games. These were Puzzle Time with Pooh, Piglet, Tigger and Roo (£6.99, available at Smyths and The Entertainer), and Castle Logix (£17.99 at Amazon)
I gave these to PlayPennies mum Theresa to test out - and play with - her four year old daughter.
Puzzle Time with Pooh, Piglet, Tigger and Roo
This puzzle has been released to tie in with the launch of the new Winnie the Pooh movie. I know that Theresa and her daughter had seen, and enjoyed, the movie, so I was interested to see how well this puzzle went down.
Puzzle Time with Pooh, Piglet, Tigger and Roo is a 25 piece floor puzzle, recommended for children aged three plus. Theresa tells us you get two puzzles in the box.
Her initial impression was good. "First off I have to tell you that these are very good quality and that the pieces themselves can take quite a hefty beating."  Despite falling in love with the images, having lovely memories of the movies, for some reason she and her daughter felt it was important to test out just how robust the pieces were.
They 'gummed' on a couple, to see how well they would take the soggy treatment. They threw them around, and even sat on them. "Apart from a little peeling on the edges of the two soggy pieces, the puzzle remained scratch and damage free." That's good then! She also points out that "Thick card supports the two lovely and bright images - images that little eyes and hands will enjoy as much as older ones - and the pieces are not too small or too big."
Theresa was pushed out of the way when it came to doing the puzzles. This was something her daughter was determined to do on her own.
Her overall verdict?  "It is a puzzle I would have spent money on if I was out at the shops."
Castle Logix
The Castle Logix game is described as a children's brainteaser. I guess it is never too early to introduce the concept of logical thinking. The game is recommended for children aged three years and up. It has 48 challenges, and four levels of difficulty. The concept is to correctly piece together the blocks and pegs to resemble the image in the challenge booklet.
I think it is safe to say that Theresa and her daughter enjoyed this game. Theresa gave it "10 out of 10 for originality, quality and brilliance".
Her first impression was a bit of a disappointment. "You get four wooden blocks of varying sizes along with three wooden poles of varying lengths." Boring. Or so she thought.
Leaving the game in the hands of two four year olds and an eight year old to make snacks, she came back to a completely silent room. "Silence usually means they are concentrating very hard on destroying something. Not this time. In this particular (and very beautiful) moment in time six hands were working together to figure out the first of a series of puzzles."
The aim is to match the picture in the book using the supplied items. Not as easy as it looks, and the puzzles get harder . In fact, this proved a lure for the children. "The fact that they can progress steadily up the difficulty charts has them all so hooked. We love it. My kids love it. It is pure entertainment with an essential educational twist."
And finally ...
Both toys were a hit with Theresa and her daughter. It goes to show that you don't need to try to be 'educational'. A good old fashioned brain teaser or puzzle is still the best sort of fun.