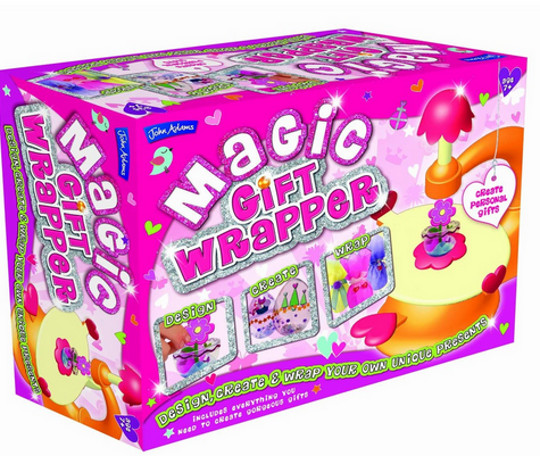 Amazon have a huge 70% off the John Adams Magic Gift Wrapper, reducing it from £19.99 to £5.97. Normally when Amazon offers such large reductions, it's because what they're selling is rubbish and they basically can't give it away fast enough, but what struck me with this particular offer is that one of the reviewers says if you can get it discounted, it's pretty good - and this is a pretty good discount!
This fab set with its workstation is designed to guide you through every step of the way for designing, creating and wrapping wonderful and unique presents. Follow the step by step instructions or use your imagination to make exciting gifts for every occasion.
Firstly you design an egg using acetate shapes, photographs angel hair, tiny gems or silver stars and more. When the egg is finished and put together, you can decorate the outside of it and then you wrap your unique gift, popping the egg into the clip and nestling the top of the egg into the base of the plunger. Wrap the egg, make it pretty with with a length of ribbon or silver string, add a gift tag and decorate with stickers,  jewels and a personalised message.
Children aged 7 -10 can design six gifts using this set. For the price it seems like a great stocking filler to me!