Hasbro FurReal Friends Cookie My Playful Pup Review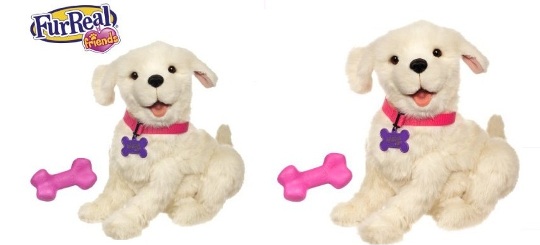 Amazon recently sent me the FurReal Friends Cookie My Playful Pup to review for PlayPennies. This is touted as one of the Must Have toys for Christmas 2011 and I was keen to see if it was as big a deal as everyone said it was.
The Cookie FurReal Friend pup costs around £69.99 (but her price changes on Amazon regularly) and can do things like respond to your voice by moving her head, blinking and barking. The puppy cannot walk but it does have poseable front legs.
I expected more for the price if I am honest. Yes, Cookie does bark, turn her head, blink her eyes and wag her tail, she also makes snoring noises when she falls asleep. This is very cute and completely charmed the pants off my daughter.
I sat in front of Cookie with the instructions to test the various reactions. The first was to place your hand on her head for three seconds to put her to sleep. This has yet to work. So far all she has done is continue barking and wagging her tail. The second is to use the included bone to get her to turn in its direction when you squeak it. I tried this in a noisy room and in a quiet room and I'm afraid the results were not very good.
I squeaked the bone and had to wait a few seconds before she would acknowledge it and turn to the noise. A long enough wait to make it almost uncertain as to whether she was responding to the bone or just moving her head in general.
Is FurReal Cookie worth the price? I am not sure. She does respond beautifully when you scratch her fur, stroke her back and talk to her. She doesn't react well to the bone or the sleep command. The fur is gorgeous, the noises not too loud and irritating, and the technology impressive. However, the price is steep, very steep, and there isn't quite enough here to make me spend that kind of money on her.