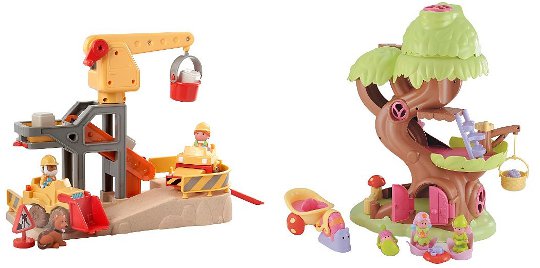 There are Happyland toys on offer at pretty amazing prices at Debenhams right now.
The Happyland busy work site from Early Learning Centre has lots of moving parts and plenty to keep little ones busy. There's a moving steamroller and bulldozer, as well as a crane with a winding handle, which lifts a bucket and transports building blocks into a square slot.  The works site includes two construction vehicles, two construction worker figures, a road sign, five building blocks and a dog figure.  It is reduced from £50, and is now just £10, giving you a massive saving of £40.
The Happyland tree house has a treetop home for fairies. It has a working doorbell, a wind-up basket, a fun slide and a snail carriage and comes with three little Happyland characters.  This is also reduced from £50 to £10.
The code DB2U is still active and gives you a further £1 off each, making them just £9! I'm not even a massive fan of Happyland products, and I'm tempted to buy them at these prices!
You wont get these in time for Christmas unless you physically go in store, and then you might not get them at these prices (I'm not sure) but if you have a birthday coming anytime soon, now's the time to buy!
Thanks to missgem at HUKD