The Gruffalo Hide And Seek Mini Game Review
Anything associated with the Gruffalo goes down well in our house, even with my son being the ever so grown up age of 7 now. He still loves the books, and he still loves the mouse, and he especially loves the 'monster'.
The Gruffalo Hide and Seek Mini Game from University Games is the latest tie-in to this phenomenally successful book (and there are only two Gruffalo books that I know of. It is a bit like the Hungry Caterpillar in having really captured everyone's imagination).
The game requires two or more players, and is aimed at players aged 3 years old and upwards. Read on to find out what I, and more importantly my young testers, really thought of this game.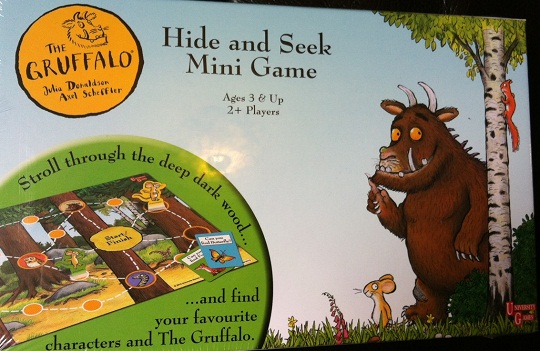 The Gruffalo Hide and Seek Mini Game (£8.99 at Amazon* and delivered free in the UK with super saver delivery) was a lot smaller than I expected. I guess I thought it would be more like a traditional board game, completely missing the significance of the word 'mini' in its title!
The premise of the game is that you're searching in the deep dark wood for your favourite characters. The first player to find three characters and The Gruffalo wins. The 'trick' is to remember where they are hiding.
To be honest I'm not entirely sure I got the game rules correctly. We were playing this shortly have Christmas and I wasn't exactly at my peak intellectually! It could be just me, but I do think they could also consider having another look at the rules for the game and seeing if they're as clear as they can be.
Despite my mental incapacity, we managed to have a lot of fun playing the game. Especially as I seemed to manage to lose at every possible juncture. There's a spinner instead of dice, and no matter what I did, the spinner wasn't going to spin my way! I was firmly trounced by both a 7 year old, and a 5 year old, and their dad. Boo!
I liked the small size of the game. This was handy for popping it in the car and taking with us to grandparents over the Christmas holidays. I'd definitely consider taking it as an entertainment option for train journeys, and at restaurants, particularly as there's no dice to roll. It also comes in a sturdy, cheerfully decorated box, which makes for a lovely storage option.
Counters and board seem to be made robustly enough. I'm not sure it is a game I'd want to take outdoors, for example camping. I can imagine it wouldn't hold up so well to windy and rainy situations.
Pros: good size, fun to play, well built
Cons: I'm still not sure that I understood the rules properly! I read over them again to write this review, and feel slightly more confused than before. Still, it didn't stop us having fun playing.
Overall verdict: 9/10