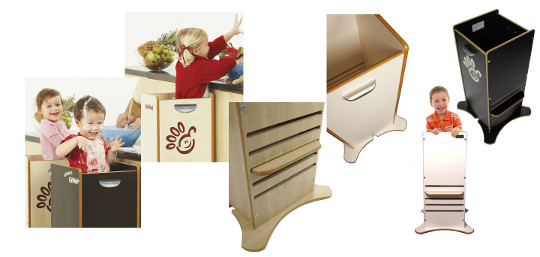 I've written a few deals over my almost two years on PlayPennies about the FunPod from Little Helper, and I've always done so with shameless lust dripping through my words. See, my nearly 3 year old has been 'cooking' with me since she was barely tall enough to reach the counter with a step and I've always conscious of her safety. I used to pop her on the counter and let her sit there kneading dough and stirring mixes, but I was always really worried about her falling off. We then used a step, which has worked well, but only because I've always been within arms reach. Now with two in the kitchen, I feel my attentions divided, and I'm so happy to say that we finally have a FunPod!
Basically, the Funpod is a pod which has various adjustable 'levels' for the growing child to stand in so that they can reach the kitchen counter. The benefit of it is that if you make sure your child is out of reach of the stove, for example, they cant go to it and pull a pot over when you are looking for something in the fridge.
It's also great for helping especially little children reach the counter without standing on a chair, which risks slipping or falling off. It's also extremely light, despite its sturdy look and feel, and with the coasters on the bottom it slides across the room quite freely when I need to push it to get into a specific drawer or cupboard that it happens to be blocking.
The FunPod was really simple to assemble, it didn't even require any severe hammering or nailing bits together, so we did it while the kids were asleep.  And when I say we, I mean my husband, while I watched.
The only down side to the FunPod is that there's no drop side, which there should be as my toddler now places her step next to the FunPod and climbs in and out over it, which has the potential for pain. I'd prefer if there was a drop-side or a hinged side so if they were going to get themselves in and out, it wouldn't be over the top.
Over all though, I love the FunPod, and with two in the kitchen now for most of my cooking, I'm really pleased that currently my toddler and soon my pre-walker will be safe.