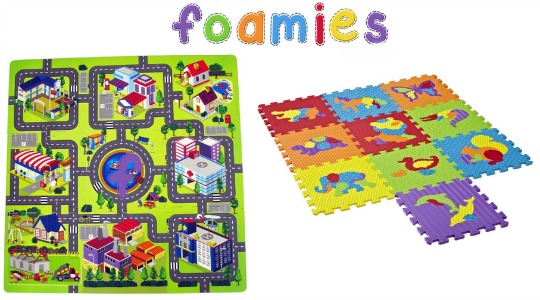 I have laminate and hard wood flooring throughout my home. I always feel sorry for my little ones knees as he plays on the floor most of the time. That was until I bought him a Soft Foam Play Mat. Amazon Seller net_price_direct is selling three Foamies Soft Puzzle Play Mats. The Soft Push Out Numbers one for just £6.50, the other two Animals and Town Map Play Mats are just £6.99.
You may find these type of Foamies Puzzle Play Mats or Tiles at your local toddlers or baby group. They are so handy as they come in a handy carry pack, so you can take them anywhere.
The Foamies Push Out Animals and Numbers Mats come in ten interlocking pieces. Each one of those foam tiles has a different number or animal on it that can be pushed out to play with. Plus they are all of a different texture to teach your child about touch.
My favourite is the Town Map one as it's great for little ones playing with toy cars.
The delivery charge on these is just £1.80 which is reasonable.