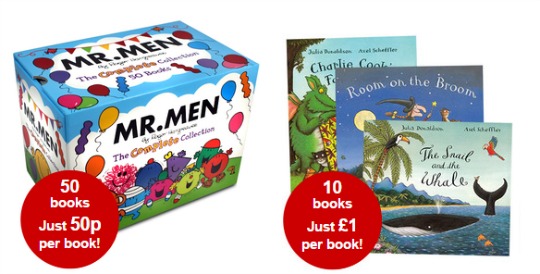 The Book People are big favourites here at PlayPennies for great value books and this weekend they have a Flash Sale in where they have slashed the prices on some of their best selling books and collections.  There are nearly 150 different things to choose from, for adults and children, and in fiction and non fiction. We love the book collections as they are by far the best value for money, and they are great for splitting us into individual presents or for party bags as well. Some of them cost as little as 42p per book!
To make the sale even better, when you add the voucher code BIRTHDAY at the checkout you get FREE DELIVERY when you spend £10! The code should have expired, but it's still working!
It's really hard to choose as there are such great offers, but here are some of our favourites from the Flash Sale:
These are just a few that we have picked out as offering the best value for money, but there's a really good range in the Flash Sale, with books for all ages of children, teenagers and adults. It's well worth stocking up on a few for birthdays, party presents as well as topping up the book shelves at home, as prices really don't get much lower than this!
Delivery is free when you spend over £25, or costs £2.99 when you spend less. Or get free delivery when you spend £10 with the voucher code BIRTHDAY.