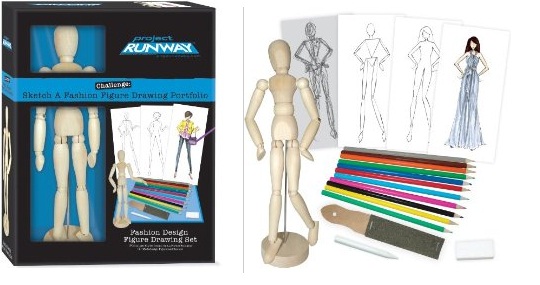 This is a handy one for the present drawer or to stock up for Christmas. The Fashion Design Drawing Set With Wooden Manikin has been reduced at Mail Order Express from £29.99 to £9.99. There's a promotional code to get a further 15% off, taking it down to £8.49. Standard delivery in the UK costs £1.99.
This would be a great set for any youngsters who enjoy making up their own designs, and have a creative streak. I like the little manikin that's included, makes it seem more like a real design set.
Easier too for making your little paper creations than trying to do it on a Barbie doll. Which is what I used to do when I was about 10. Her proportions make it impossible for anything to sit right!
The set includes:
12 inch wooden manikin
12 colored pencils
eraser
sketchbook
newsprint paper
sharpening pas
tortillon (blending stick)
The website says that colours and styles of contents may vary. The set is recommended for ages 8 years and upwards.