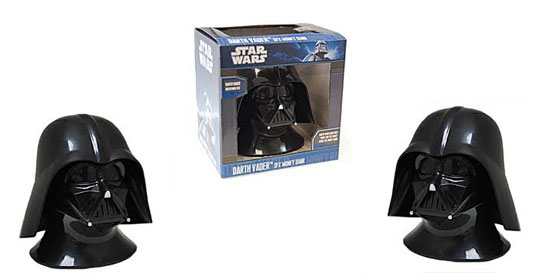 Argos are selling this Star Wars Darth Vadar talking money box for less than half price - its original price was £19.99, you can pick one up now for £7.99.
It had to be a first - almost as soon as Christmas was out of the way (which feels as though it was a lifetime ago already!) I'd got myself organised with birthday presents for my youngest son, Edward.  This wouldn't have been very impressive had his birthday been in January or February, but his birthday isn't until JULY!  Of course, the important thing now is remembering, come July, where I've stashed everything!
Edward is a Star Wars fan of note and, a couple of years ago, I bought him a LEGO Star Wars Darth Vadar alarm clock - he's going to love this talking Darth Vadar money box to go with his clock.
He's already a bit of an entrepreneur and salesman and loves to stash his money - in fact, just last month he was trying to explain to his dad why he was still owed a tenner: his dad had exchanged a £10 note for 10 £1 coins - well, as far as Edward is concerned, he's still owed a £10 note back! Forget the fact there was a fair exchange of coins for paper.
The coin slot is situated at the top of Darth's helmet and when you put coins into his head, that Darth Vadar breathing starts - JUST. AWESOME!  As is anything that encourages children to save their money.
Now, you might have to hunt around for stock a little bit - mine was reserved at an Argos store 15 miles away, in the grand scheme of things that wasn't far for me, but then my nearest supermarket is 10 miles away, so I'm used to shops not being on my doorstep - but there seems to be stock pretty close by to most places.
Although I guess 'close by' depends on your point of view, how badly you want one, and how far you're prepared to travel to get it - use www.icheckstock.co.uk to help you search a little further afield than one postcode at a time on the Argos site.
Thanks to youchose at HUKD