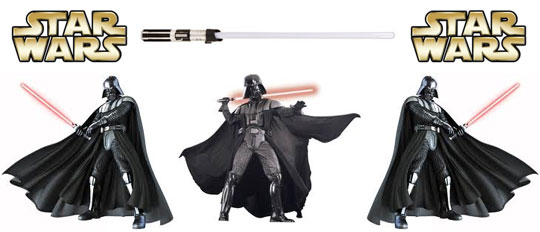 I'm buying this Darth Vadar Lightsaber for myself!  It's currently £29.99 instead of £39.99 and is going to be GREAT for the weekly lightsaber battles I engage in with my youngest son.
Star Wars has been part of my life for as long as I can remember; waiting for YEARS for the next movie to be released at the cinema was great (none of this only waiting six months to a year like we do these days) and then waiting for YEARS for them to be the big Christmas movie on TV.
Toy lightsabers aren't new though, I had one when I was little - it was a red Darth Vadar lightsaber too - but it was rubbish compared to today's Darth Vadar lightsaber as it just glowed red when you turned it on.
Now, the Darth Vadar lightsaber makes all the right noises at all the right times and I'm going to HAVE one!  You see, I always have to be the bad guy and be the one to get killed (even though my lightsaber skills are pretty epic) when I play lightsabers with my youngest son.
I have a Star Wars lightsaber app on my iPhone, so we battle with the lights off (it's much more 'scary' then which, apparently, is a good thing) with Star Wars music playing in the background.
You can collect your Darth Vadar lightsaber in-store for free or pay £4.95 for home delivery.
May the Force be with you!