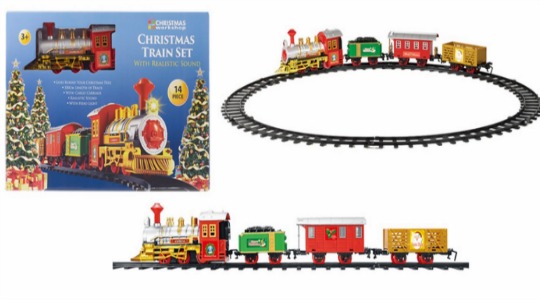 You guys have been asking us to find you more affordable Christmas Train Sets so here you are. They don't come any better than this Christmas Santa Express Train Set from TJ Hughes. Instead of them selling it for £19.99, it's only £9.99. Even when factoring in the delivery charge of £2.49, you are only paying £12.48 for this festive treat delivered.
The Christmas Santa Express Train Set has a loop track so would be ideal for putting under your Christmas Tree. How amazing would that look? Very traditional with lots of WOW factor.
It's battery powered which means you aren't restricted to putting it only where you have the free plug sockets. There's 330cm length of track with it so it's not tiny.
The Santa Express Train features realistic train sound effects and a head light. Imagine the glee on the kids' faces when they see this 'choo-chooing' around it's track.
These are very sought after, especially ones big enough to fit around the bottom of your Christmas Tree, so we recommend grabbing one sooner rather than later.