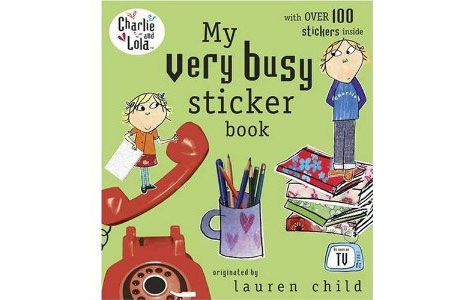 This Charlie and Lola 'My Very Busy Sticker Book' is on sale at Amazon for £3.15 instead of £4.99.
My little niece has just turned three and she ADORES sticker books and my mum wants to buy her a couple, so I was tasked with finding some that she'd like.
I don't know any child who doesn't like Charlie and Lola; if they haven't 'met' the brother and sister duo yet then, trust me, they'll be firm friends as soon as they do.
Lola is Charlie's little sister.  He says, and I quote, "She is small and very funny."
Lola has an interesting view on the world and in this sticker book she is 'very extremely busy'.
There are six different sticker scenes and over 100 reusable stickers for your child's sticking pleasure.
I like the reusable element; my niece is very precise and if a sticker isn't stuck on 'just so' then she's NOT happy!
The reviews are excellent too - my mum's sold and I've just won a stack of bargain hunting brownie points.
"I'm a mom of a 7 year old and now that he's going to school I thought of getting him some activity books. My very busy sticker book has big drawings and stickers and they are just so much fun that I was really hoping he could invite me to join on the game. Beware not to hide the book for your own use before giving it to your child!!!"
Happy Sticking!