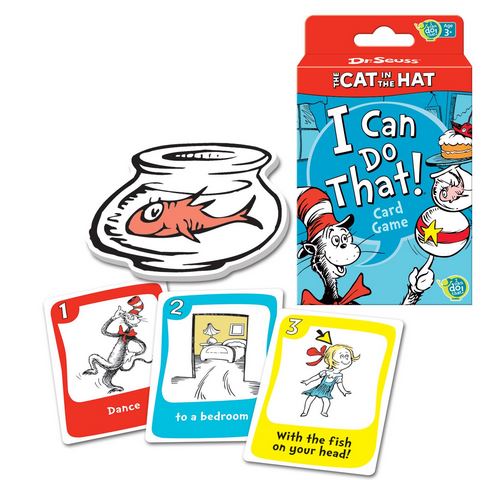 Like many young children the world over, my daughter is a huge fan of Dr Seuss stories. When I saw the I Can Do That! Cat In The Hat Card Game (£3.99) I thought that could make for good fun on rainy summer holiday days, and right I was.
The game works on the principle of 'Memory', but totally different too.
In the box you get 24 cards in three colours, red, blue and yellow, six colours each. You also get a foam fish in a fishbowl.
To start the game, you lay the cards face down on a flat surface, (played with my three year old we only do 12 cards at a time). Each player takes turns to turn over three cards. If you pick one of each colour, you follow through the activities on them. For example, 1 Red) Penguin walk, 2 Blue) around a chair, 3 Yellow) with the fish between your knees! So, then you do exactly that - take the foam fish, pop it between your knees, and penguin walk around a chair.
Turn the cards back over, back in their places, and the next person takes a turn.
If you pick two of the same colour, you miss a turn. While this is totally not in the spirit of the game, that's quite useful if you're trying to tire your small person out, without expending too much energy yourself, you can 'accidentally' pick the same colours, so you 'miss a turn'.
The cards are great quality, really sturdy, and the foam fish too. Actually for the price, it's one of the best value Dr.Seuss products around. Even used books cost a fortune, but this was worth the money, and more.
There's no real age guidance beyond 3+ on the game, but my almost four year old is gleeful in her enjoyment of it, and it does make me giggle.