Blue Swim Centre Pool £14.98 @ John Lewis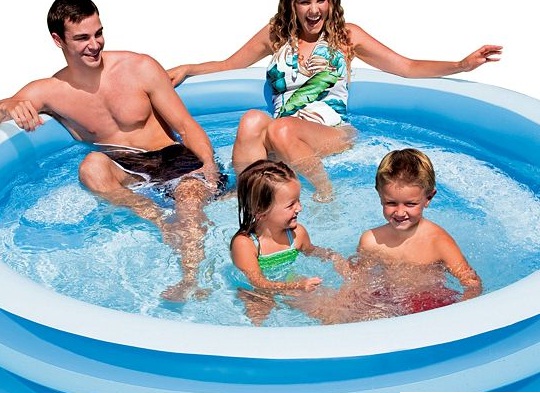 I'm not a huge fan of paddling pools, but I used this one recently at a friend's house and was really quite surprised. It is the Blue Swim Centre Pool from John Lewis, reduced at the moment from £29.95 to £14.98.
It isn't the sort of inflatable pool you'll put up for your toddlers to have a splash around in. Although it isn't as big really as it appears in the photo above, it is still quite sizeable. We did fit at least one adult and three kids in there although I'd have to say if you put two dads in there you're not really going to get anyone else in. The kids had fun jumping on the adults anyway.
It is a round pool with a semi-circular air-filled lounge seat for lots of comfort. Includes 3 convenient cup holders and has a water capacity of 647 litres. Also includes a repair patch. Dimensions: H56 x Dia.203cm.
The pool does take a long time to fill up. However, if you're using cold water then it can be a good idea to do this in the morning if you're having an afternoon splash, to the let the water warm up a bit.
One thing that puts me off of paddling pools is that the water is static. Not sure how you'd get around it other than making sure the water is kept fresh as possible. The one we played in the other weekend was on a lawn, and with everyone jumping in and out all the time the hose was pretty much in the pool the whole time so the water kept circulating. That said it was a REALLY hot day! So the fresh cold water was particularly nice.