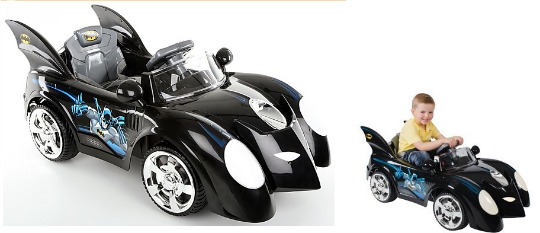 This is the coolest 6v battery operated ride on I have EVER seen! You can keep your Mini, Range Rover and Porsche, this is what it's about. I cannot see this below £100 anywhere. Nip over to Amazon and get it for £80.52 with FREE Super Saver delivery included. What an amazing price! These will sell fast, quite simply because they are AWESOME!
This uber cool Batman 6v Battery Operated Batmobile is jam packed with cool features! The frame is reinforced with metal to prevent your child cracking it. The battery takes eight to ten hours to fully charge and will last an hour to an hour and a half.
It can go forward and back via gears and a foot controlled accelerator pedal. It goes at a nice steady speed, at a maximum of 2.7 kilometres per hour. Ideal for little Batman wannabes from age three years and above.
My boys would fight like heck over this if I bought one. No wonder, this is really nice and different from other 6v battery operated ride ons. For this reason, it'll be mighty popular at this price, so don't hang about.