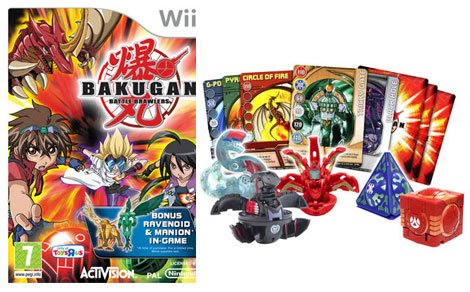 Toys R Us have some great Bakugan discounts on at the moment; great news if you have a Bakugan fan in your household!
I was introduced to, and taught the ways of, Bakugan yesterday by my four-year-old who was very patient with me.
I'm still somewhat confused about what they're all about but he's very certain on one thing - Bakugans are COOL!
From what I can gather they are a bit like Top Trumps, in so far as each Bakugan has various skill, ability and fighting levels and you 'battle' to see who can become the Bakugan Master.
That's where the similarity ends though as you don't just have Bakugan cards, you have Bakugan dragonoid figures too.  They're like little balls which pop open to reveal the 'alien' thing on the inside.
You can see why patience was required when explaining this to me can't you...
If you're new to Bakugan the Bakugan Brawlers game pack for £19.97, instead of £24.99, will get you started.
If you want to go down the electronic route then the Bakugan Battle Brawlers game for the Nintendo Wii is half price now at £12.47.
There are all sorts of Bakugan accessories and individual characters to collect - it's like a whole new world!