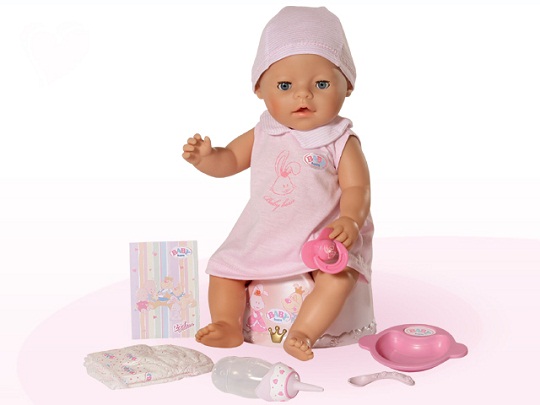 I recently reviewed the Baby Annabell doll from Zapf Creations, but then I was sent the Baby Born Interactive Doll for our Christmas Gift Guide and have to say that it kind of beat the former hands down. My daughter much prefers this Baby Born even though it has no electronic functions or makes no noises, and here's why...
This doll is incredibly interactive with ten accessories included in her box that get kids playing right away. I think what made Baby Born such a hit was the fact that you could feed her porridge (included) or water which she would then, well, wee out into her potty. The girls were smitten with her and instantly got completely soaked.
As did my carpet, my lounge pillow and me. Yes, this doll wets her nappy if her legs are extended so if her nappy isn't on and you happen to pick her up while doing the morning tidy… You get the picture.
So what's bad about the Baby Born? She is messy and you do need to keep her on a towel or an area you don't mind getting wet. Also, when I first got her, I put the dummy in her mouth to see what happened and when I pulled it out the entire dummy end snapped off instantly. I'm not Hulk so that's a bit of a design flaw. It was easy to fix with Super Glue though.
Baby Born is also supposed to cry tears when you squeeze her arm which we haven't been able to achieve yet, and she is a hefty £39.99.
However, those are really not huge down sides in comparison to the positives. The doll does go to the potty, you get a ton of accessories in the box that offer hours of interactive play and that had my girls completely smitten from the get go. She is fully moveable, can hop into the bath with them (not fully underwater), has eyes that close, and gets a range of accessories that react to her presence. Yes – you can buy things like the Baby Born Interactive Kitchen that make noises when the doll is placed near it. That's really cool.
The doll is easy to clean and maintain and the cute little bracelet for her and the little girl she belongs to are just adorable. I would definitely put this on the Christmas gift list for a little girl over the age of three.