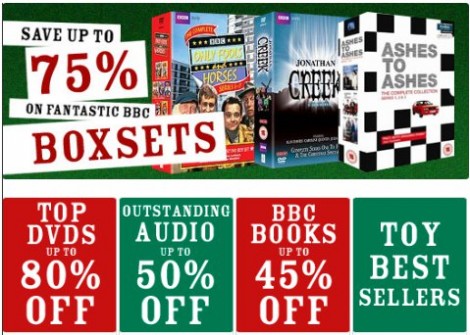 It seems everyone is getting in on the 'get ready for Christmas' action, and this offer of up to 80% off on Books, DVDs, CDs and Toys from the BBC Shop is no exception.
I just love snuggling up on the sofa for a good movie, and many a winter's evening has been offered up to watching a new (to us) series from start to finish. The same applies to books and music – the rare quiet weekend cuddled up in bed reading a good book to background music does wonders for the soul.
Which is where this awesome sale from the BBC Shop comes in, with movies such as Single Father: Starring David Tennant, and box sets like Merlin Series 3 at 75% off. In the CD sale, BBC Shop have audio books starting at just £3.25, and Doctor Who: The Essential Companion for £9.79.
Books like Match of the Day Annual 2011(£4.49) andSaturday Kitchen Cookbook (£9.99) will make great gifts, while £5.59 for Alan Titchmarsh's How to Garden: Vegetables and Herbs is a small price to pay to learn a new hobby.
Finally, the BBC Christmas Toy Shopis a dream for anyone who loves Dr. Who, Top Gear, In the Night Garden and most other BBC shows, with toys from £4.45 (ZingZillas - 4 Jigsaws in a box) to £48.99 (Eleven Doctors Figure Set (Doctor Who).
BBC Shop delivery charges start at £2.45 and orders are generally despatched in one working day, so there's plenty to get your orders in. No sign of how long the sale will be lasting for though, so don't delay – fill your stockings today!
Thanks to Zekespah from HUKD