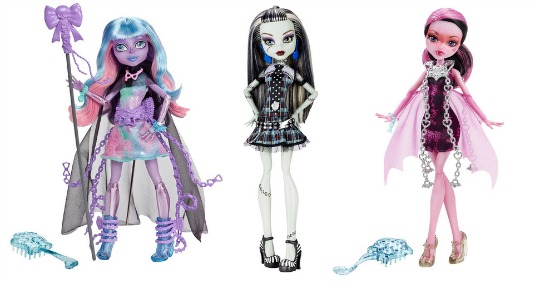 Monster High Dolls seem to be as popular as ever, and whenever there is a good offer they sell out very quickly indeed. Yesterday the Flash Sale at Toys R Us on Monster High Dolls started, and most of them went out of stock right away!
Luckily Amazon have today started their own promotions with 50% off selected Monster High Dolls, with prices starting from just £8.50, which is just about as cheap as they get.
There are ten dolls in this offer. For £8.50 you can get Getting Ghostly Draculaura, Frankie, Clawdeen, and the regular Draculaura. For £11 there are the Monster High Exchange Dolls Lagoona, Marisol Coxi or Draculaura. The Nita Nightshade doll is £11.50, and River Styx and Kiyomi Haunterly are £12 each. (I hope those names mean more to you than to me!)
Delivery is free for Amazon Prime members and all orders over £10, or for orders under that charges will apply. This offer is for one week only, and ends on 29th April.