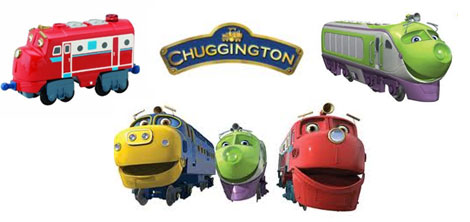 If you have a little Chuggington fan in your family then you need to chug over to Amazon - they're currently offering 40% off Chuggington Toys.
All of my family fell in love with Chuggington when it first hit the TV screens - my youngest gave everyone character names: he was Wilson, my eldest was Brewster and my daughter was KoKo, it really was far too cute actually.
If you're not familiar with Chuggington, here's a quick Chuggington 101.
Wilson, Brewster and KoKo are trainee locomotive engines (Chuggers) who live in the town of Chuggington and they get up to all sorts of mischief and adventures, whilst learning important life lessons along the way (of course!).
Wilson is the youngest and can be a bit over-enthusiastic sometimes, Brewster is the sensible one and KoKo is outgoing and daring.
There are lots and lots of different Chuggington bits and pieces up for grabs at Amazon; far too much to list individually here.
But if you were looking for lots of things that come as a complete set then you really should consider this Interactive All Around Chuggington Set.
Here's the low down from Amazon
(by the way - Vee is the voice that comes over the loudspeaker in Chuggington and tells everyone where they need to go and what they should be doing)
Vee in the All Around Chuggington feature playset tracks and directs play
Vee recognises Chuggington interactive engines and gives them specific jobs and rewards
Includes interactive Wilson, Roundhouse with Vee, tunnel, crane, bridge and 39 pieces of track
Wilson recognises and greets each training stop and any added engines
This is now £36 instead of £59.99 and a bit of a bargain - it's very battery heavy though, you'll need 11 (yep, that's right) AA batteries to run everything.
Shares in Duracell anyone?
Thanks to trueblonde over at HUKD