My 1st Years Mother's Day Bear Review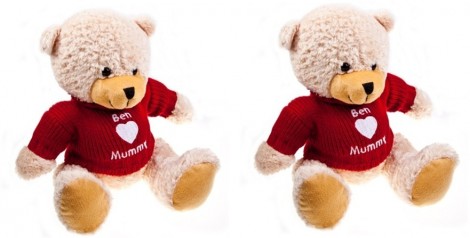 I have to confess that I have an enormous weak spot for teddy bears. They are so utterly soft and cute and cuddly. My 1st Years have a Mother's Day bear that can be customised to say that your child loves mummy.
Let me explain. Based on all the rave reviews of My 1st Years I decided to get a Mother's Day bear for my mother-in-law. I customised the shirt to say "Tabitha loves Grandma" and I can't wait to give it to her.
The bear is utterly soft and scrummy. Not too firmly stuffed (I hate that) but not floppy and yuk either. He is just right. The print has come out really well, although the Grandma is a bit squished and not perfect.
When you create your Mother's Day bear you add in the names using their personalisation software. You can adjust the colour of the text, and the font you use. You are, however, limited to only 15 characters per name.
The Heart Mummy bear sells for £25 and comes in a free luxury gift box that is, I have to say, really lovely. This big blue box is reminiscent of American movies where they open big boxes of soft paper to reveal gorgeous frocks. I love it. I wish I didn't have to give it away.
If you fancy giving a bear to a grandma or mother-in-law you can personalise a bear with just their name for £20, or you can give one to your partner for all her hard work which has a big heart and your names in the middle.
These bears are a little above the cost line, I agree, but they are excellent quality and feel really furry as opposed to plasticky and stiff. A buy that will last for ages and that's wonderfully sentimental.