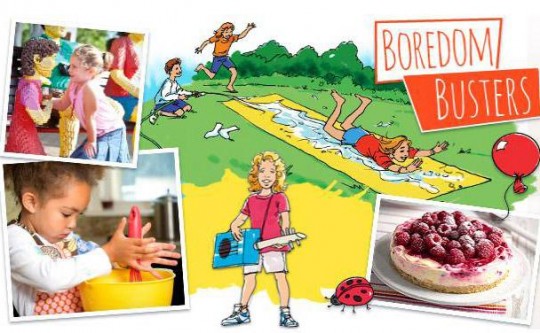 I can't believe it's August already, but what I do know is that if you're not already in full swing for summer fun with your little people, the summer will be over and they'll be back to school before you know it! Sainsbury's have launched the Bumper Book of Summer to help parents plan activities to keep their children occupied and entertained away from the TV screen.
The book contains over 80 activies themed around nature play, creative arts, imaginary play, active days, and cooking, and activities are marked according to the age of the child it's intended for, from ages 3 - 12.
There aren't a lot of activities marked for 3 year olds, but one of my favourite things about this book is that it's not single use - for one year, I mean - but you can keep it for next year and the year after and all the way through, really.
Each activity tells you how long it should take to set up, which is useful and what you'll need to perform the activity. They've tried to do it in such a way that most of the time you should have everything you'll need available at home already, (but obviously you should be able to find any other bits at your local Sainsbury's or any other supermarket, really!)
The activity guide on the side bar of every page also tells you how long the activity should take, and what kid of weather it's ideal for.
Written by author Josie Curran, the book features activities from Sainsbury's Active Kids ambassadors David Beckham and Ellie Simmonds, as well as featuring hints and tips from Nickelodeon presenters Anna Williamson and Jamie Rickers.
The book set is priced at £5, and comes with the step by step book, a seperate scrap book to keep your summer memories recorded in, over 100 stickers, a wall poster to help plan your activities and a step-by-step guide DVD.
The DVD is quite useful because the guide can be a bit vague in some places. It's good if you have a good knowledge of arts and crafts, for example, but  leaves a lot open for interpretation, which is actually also nice as it gives you flexibility to work within your own resources. But, if you get stuck, the DVD is there for back-up.
I think if you are a Pinterest regular, and spend all your free time pinning things for your children to do you may not really need this book, but if the thought of however many weeks of summer with your children scares you or stresses you out, this is a godsend. I particularly like the wall chart, so you can plan things to do every day, because I find  planning activities and crafts ahead to be a sanity saver for us.
Overall, I think it's £5 well spent.